Sonova ESG Report 2022/23
Serving society
We constantly innovate in hearing health care, improve access for people in under-served areas and engage actively with our communities.
Serving society is the core of Sonova's vision; to improve the quality of life for millions of people around the world who are experiencing hearing loss. We achieve this by developing and continuously enhancing innovative solutions and making sure that our broad portfolio is accessible and affordable to people in an ever-growing number of locations and at all income levels.
The sections that follow provide an overview of our approach in the 'Serving society' pillar of IntACT, our ESG strategy:
The importance of good hearing and the consequences of hearing loss continue to be underestimated. Unaddressed hearing loss is among the three largest causes of years lived with disability (YLD) around the globe, and yet it remains an "invisible disability" despite approximately 20% of the global population experiencing some degree of hearing loss, according to World Health Organization (WHO) statistics1. Over 5% of the world's population experience moderate or higher grades of hearing loss2; nearly 30 million have profound or complete hearing loss in both ears. The number of people with hearing loss is expected to rise significantly rise beyond these 2021 statistics due to the aging of populations and continued noise pollution. The WHO estimates that by 2050, 2.5 billion people will experience hearing loss and over 700 million people will require hearing care due to a moderate or higher grade of hearing loss1.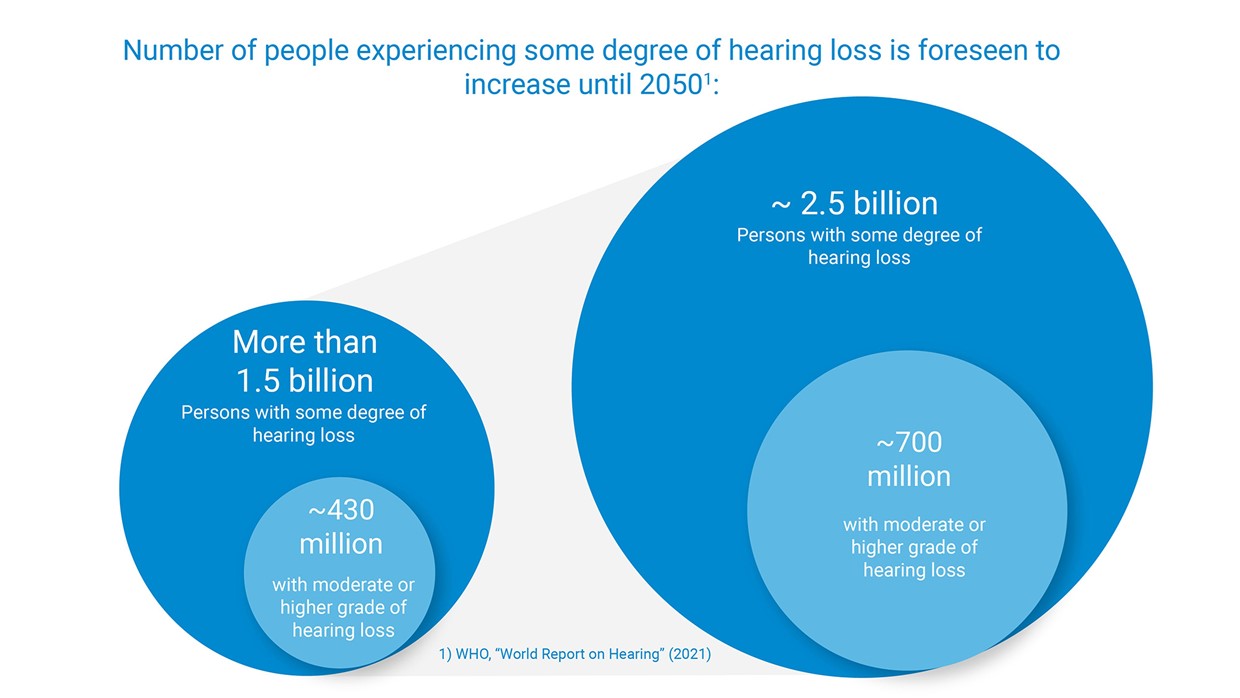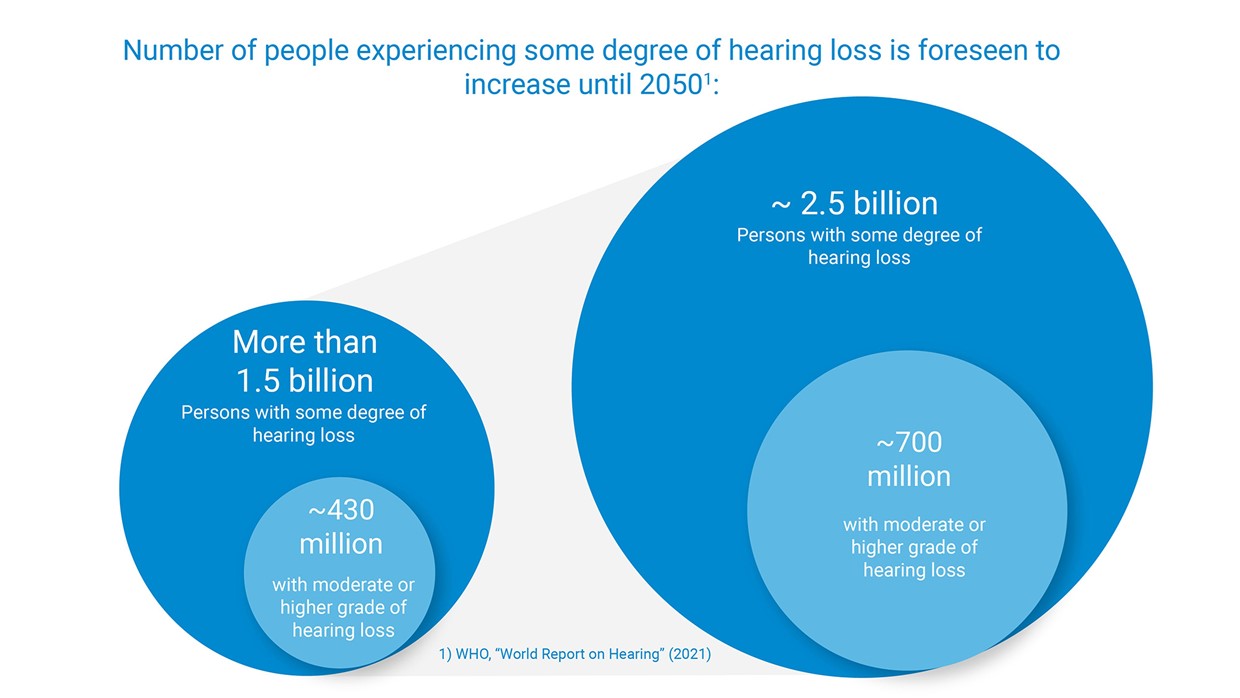 Untreated hearing loss can have serious consequences for the individuals who suffer from it and for those around them. These range from negative effects on personal relationships to disadvantages at work and social isolation, which can lead to depression. Especially severe are the consequences for children with untreated hearing loss, as the development of speech and language is fundamentally dependent on the sense of hearing. Untreated hearing loss also is often associated with academic underachievement, which can lead to lower job performance and fewer employment opportunities later in life. In addition to the impact of hearing loss at an individual level, untreated hearing loss puts a heavy cost burden on society. Direct and indirect costs related to unaddressed hearing loss are estimated at USD 980 billion annually, of which more than 50% are borne by low- and middle-income countries in direct health costs, loss of productivity, and societal costs1. Today's hearing solutions offer the opportunity to reduce this burden significantly.
The fundamental need for hearing solutions is further influenced by long-term socioeconomic factors. The number of people on our planet will continue to increase. Although populations in low- and middle-income countries are expected to grow the most, even high-income countries with stable populations will face a growing proportion of elderly citizens, who are likely to experience hearing loss. These developments increase demand for hearing care: a large unmet need remains. According to WHO statistics, approximately 80% of people with moderate or higher grades of hearing loss live in low- and middle-income countries, with the most affected regions being the Western Pacific, South-East Asia, and the Americas1. People in such countries often have little or no access to audiological services, and the hearing care market is still relatively underserved. The WHO estimates that total current hearing aid production worldwide would meet only around 3% of the need in low- and middle-income countries3. This situation presents substantial opportunities to increase access to hearing care.
Serving society
WHO, "World Report on Hearing" (2021)

In 2021, the WHO has adapted its grading system on the severity of hearing loss. The threshold for moderate hearing loss is 35dB in the better hearing ear.

WHO, "Factsheet: deafness and hearing loss" (2020)
Innovative hearing solutions
Broad product portfolio
The hearing care market is highly diverse, requiring a broad range of technologically advanced solutions and versatile customer service channels. Our declared goal is to offer the most innovative hearing solutions and services available to consumers worldwide, continuously improving speech intelligibility, sound resolution and quality, and ease of use. With our Consumer Hearing business, we have expanded our product portfolio to include wireless headsets and speech-enhanced hearables. We are vertically integrated: our four businesses cover the full hearing care industry, from research and manufacturing of products such as hearing instruments and cochlear implants to expert hearing services delivered through our Audiological Care business.
In 2022/23, around 60 new patent applications were filed across the Sonova Group. By the end of the financial year, Sonova owned in total over 1,800 active granted patent and design rights.
Digital solutions
Sonova continuously extends the digital solutions that bring together healthcare providers and consumers through different stages of the hearing journey, while improving the audiological quality and ease of operation of our products. Our various apps include advancements such as health measurements, continuous data monitoring, and statistical analysis of listening situations to enable user-specific fine tuning of the hearing experience, as well as more targeted advice to our consumers.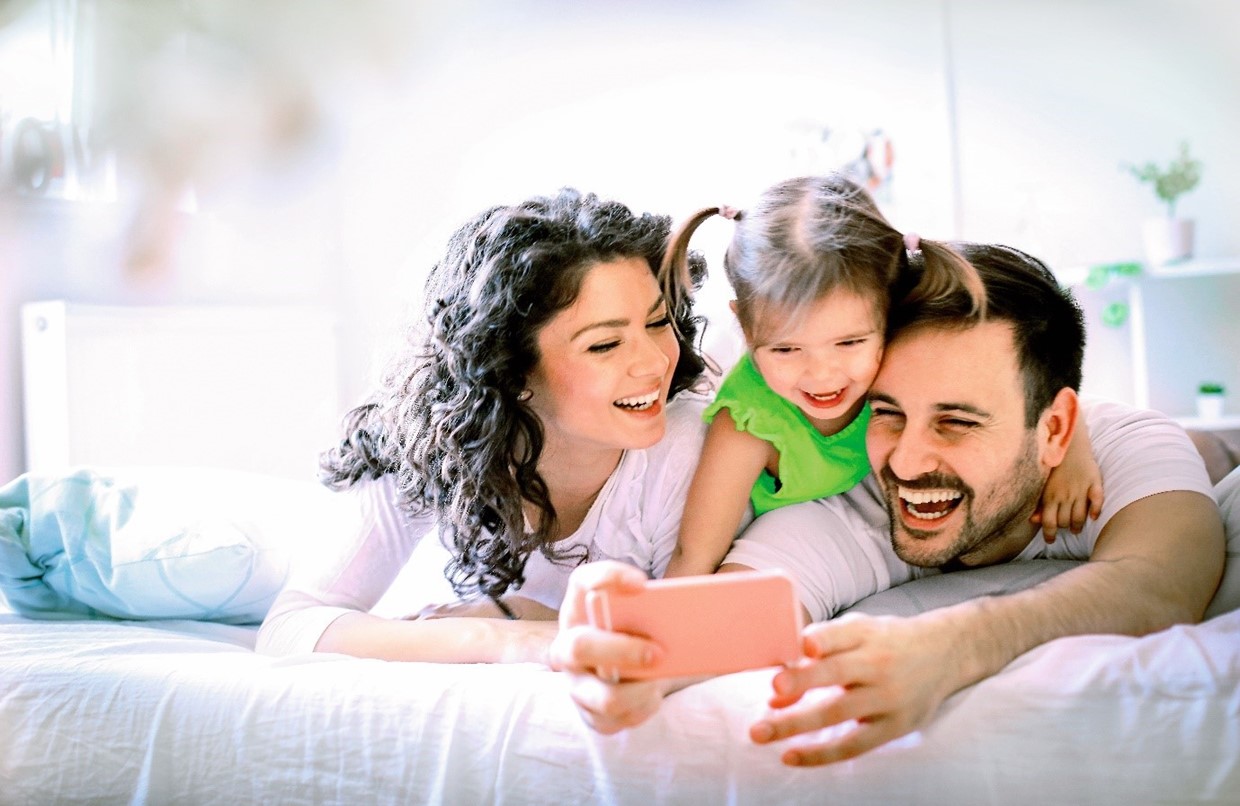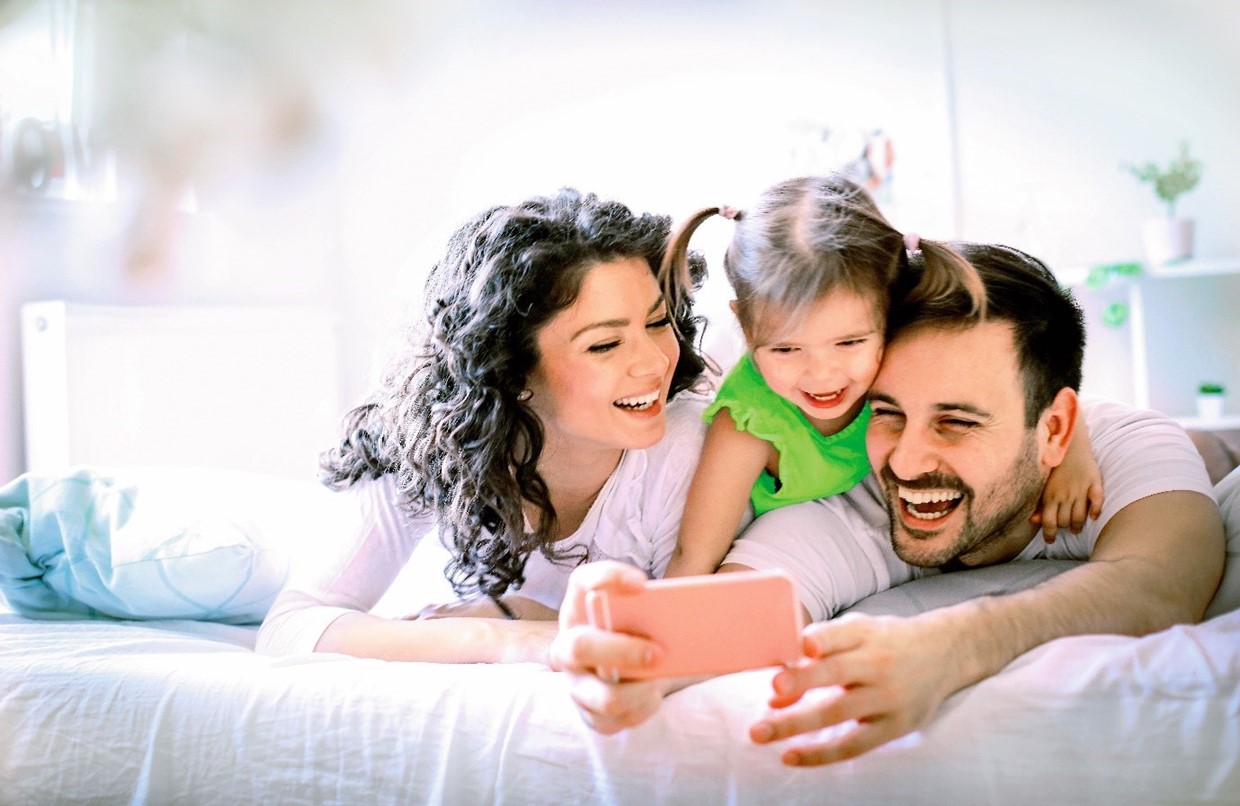 Helping kids to own their journey to better hearing
The myPhonak Junior app complements our hearing instruments with a specific focus on the needs of children with hearing loss and their parents. Designed with kids in mind, it covers the key steps that they can follow to take control of their journey to better hearing. The app can be also used in cooperation with the hearing care professional for remote service sessions, and by the child's parents to help them understand what their child is experiencing.
To complement our strong research and development hubs in Switzerland and around the world, we announced in November 2019 the opening of the Sonova Innovation Lab in Waterloo, Ontario, Canada, where we explore new digital capabilities in one of the leading consumer app development centers in North America, bringing together experts from our various specialties with people from the mobile industry. In Singapore, we have a innovative development center focused on consumer hearing.
Partnerships and collaborations
Sonova continuously collaborates with partners such as leading research institutions, hospitals, and companies to progress towards our goal to improving life quality with our hearing solutions. We strive for long-term partnership and open exchange, and we collaborate with over fifty top-class universities and centers of excellence and technology. Our recent collaborations included work in broadening the understanding of auditory perception and cognitive processing, refining digital signal processing and the miniaturization of electronics, improving material and implantation technologies, and researching the potential of bionics. We work especially closely with international groups of experts from the Phonak Pediatric Advisory Board to develop hearing solutions that counteract hearing loss in early childhood. Members of the Pediatric Advisory Board include parents of children with hearing loss, researchers and professors in pediatric audiology, and master pediatric clinicians.
Customer satisfaction
Sonova is committed to regularly collect feedback from both our customers, including hearing care professionals (HCPs), and from our end-consumers. Feedback is vital for both process and product improvements. Our end-consumers have the opportunity to share feedback through different mobile applications and to their HCP or retail customer service. For hearing instruments, we conduct several types of surveys regarding customer satisfaction. The customer satisfaction index (CSI) is calculated on a scale from 0 – 100 and based on a yearly survey in 25 countries for our brand Phonak. In 2022/23 the CSI remained stable at 75 compared to 74 in 2021/22. We are also collecting monthly feedback from our customers, through a survey in four countries for our brand Phonak. There we look at the Net Promoter Score (NPS) as the key metric. The NPS is a widely used market research metric that is based on a single survey question asking respondents to rate the likelihood that they would recommend a company, product, or a service. NPS tends to be more reactive to market dynamics than the CSI. The 2022/23 12-month average NPS was 30, down 10 percentage points compared to the 2021/22 12-month average NPS of 40. Root causes has been analyzed and actions are developed to enhance customer satisfaction.
Customer satisfaction1
Accessibility and affordability
Sonova offers a wide range of products and services, and our solutions are present in over 100 countries. We provide hearing care services through our Audiological Care business, innovative headphones and early entry hearing solutions through our Consumer Hearing business, as well as hearing instruments, wireless communication devices, and cochlear implants. Access to hearing care is a topic closely aligned with our corporate values, and we aim to ensure that our full product range is available at appropriate price levels through a wide variety of channels.
Distribution network
Innovation is not limited to the products we produce and offer – innovation also drives the way we approach the market, both through our wholesale companies, through distributors, and through our omni-channel audiological care network. Operating through many channels multiplies the potential paths to hearing for consumers, even in parts of the world where hearing care has been in short supply. Sonova's Audiological Care business is currently the second largest hearing care provider in the world, with more than 3,900 stores and clinics in 20 markets, employing over 8,600 people.
Access in remote areas
For many years, Sonova has developed innovative digital solutions, both built into and supporting our products, to improve access to expert hearing care, especially in remote areas. We enable remote hearing screenings in numerous countries, which are conducted either online or via one of our dedicated apps. We also support remote hearing aid fittings and adjustments, linking consumers to their hearing care professional without requiring a face-to-face consultation.
Underserved markets
Hearing care that both is accessible and affordable is still a challenge for many people in low- and middle-income countries, as it is for underprivileged social groups in high-income regions. Sonova has set the following target to increase the number of hearing aids sold in low- and middle-income countries.
Serving society target: We aim for a 50% increase in the number of hearing aids sold in low- and middle-income countries by 2023/24, compared to 2018/19.
During the 2022/23 financial year, we continued our efforts in this area and achieved a 48.5% increase compared to 2018/19 and almost achieving our 50% increase target.
Sales growth in low- and middle-income countries
Customized solutions
We develop dedicated products and services for specific markets, including underserved markets. For people speaking a Sinitic language such as Mandarin or Cantonese, Sonova worked with China's largest hospital, the Tongren Hospital in Beijing to better understand the specific needs when it comes to hearing loss. The result was a specific prescription formula for the amplification/frequency curve shapes of tonal languages – or, to put it more simply, hearing aids offering significantly better speech clarity.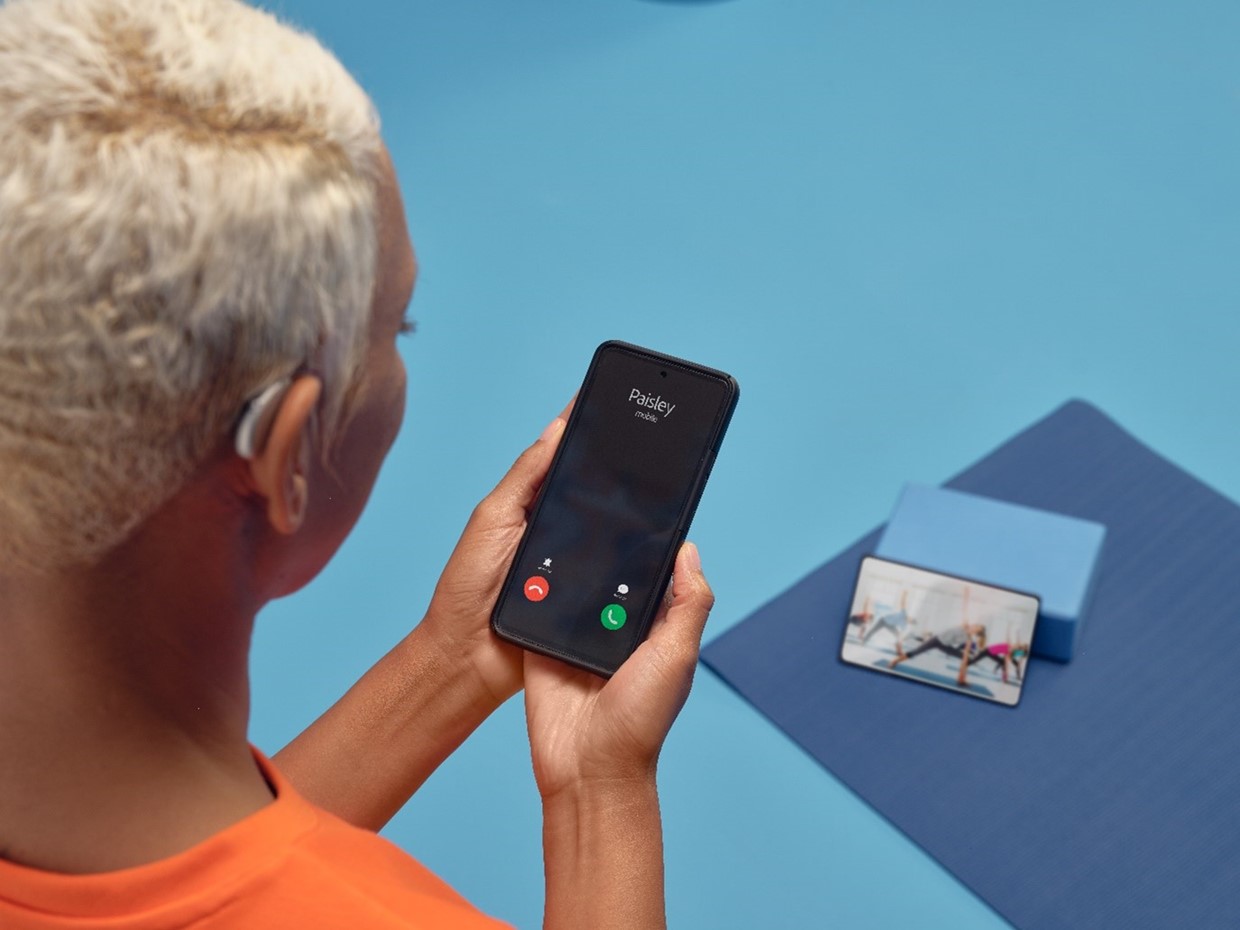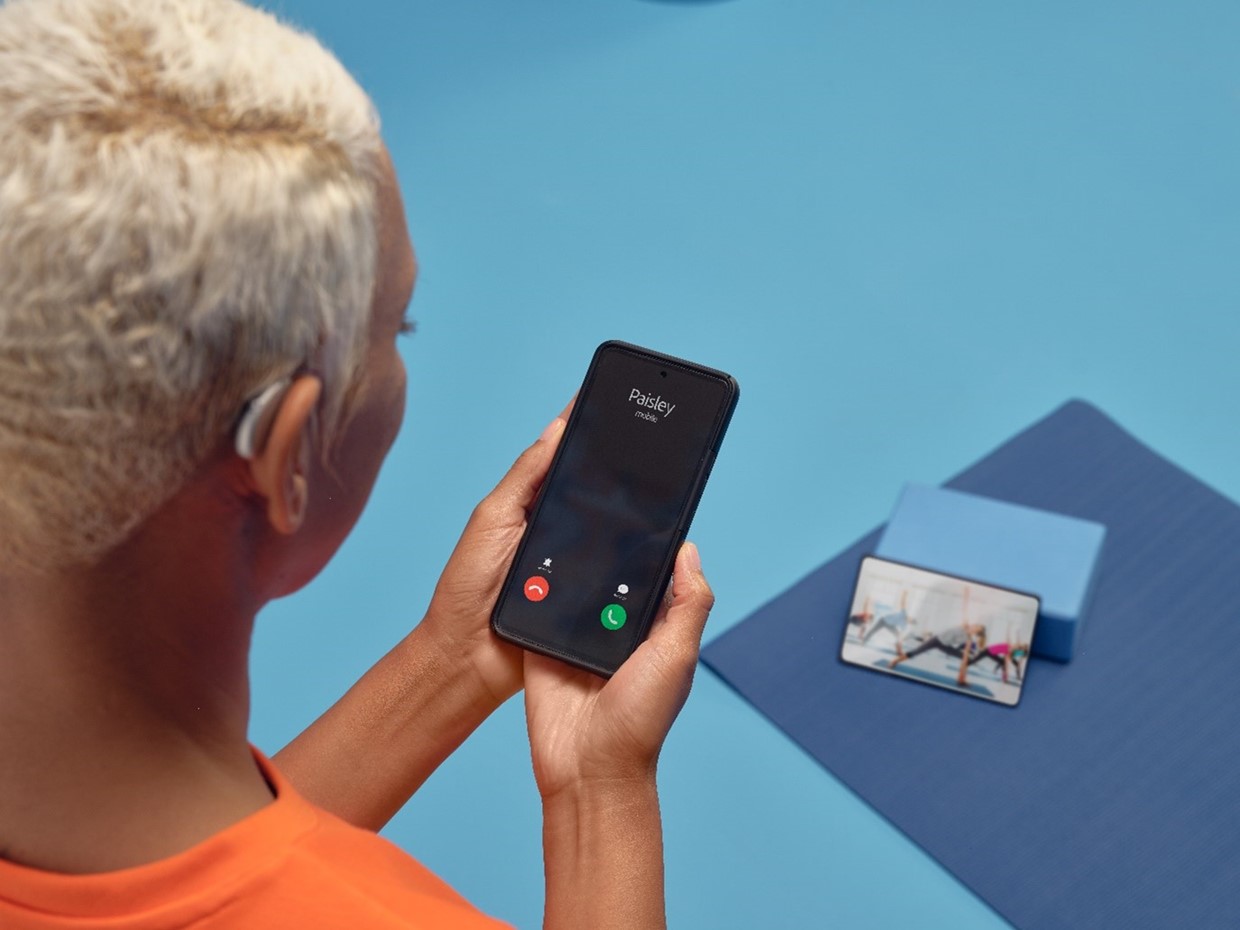 Flexible product offering
Our Unitron brand gives our consumers the flexibility to upgrade the technology in their hearing aids without having to change them for a new pair. This enables hearing care professionals to continue to support the consumer's changing hearing needs and also gives consumers a wider choice of initial product price level, as they can easily upgrade in the future.
Training and education
One of the challenges in supporting the large population of people living with hearing loss is ensuring that there are enough trained hearing care professionals (HCPs). The lack of educational infrastructure in many countries hinders efforts to raise the proportion of people who can receive hearing care. Sonova is determined to build local capacity and capabilities by helping to train hearing care professionals to the highest standards.
The Swiss International Hearing Academy (SIHA), is a Sonova Group initiative that offers a pioneering blended-learning program in audiology for aspiring HCPs worldwide. The program makes training viable in countries where vocational education facilities are thin on the ground or non-existent. Delivered over six or twelve months, the SIHA program involves more than 1,350 hours of study and includes instructor-led lectures, online modules, self-study, and clinical work.
SIHA training program target:
Sonova's target, set in 2020/21, was to train and certify 250 HCPs in low- and middle-income countries through the SIHA program by 2022/23.
This has been achieved: 270 HCPs have been certified since 2021/22, 186 of whom graduated during the 2022/23 financial year. At the end of the financial year, a further 253 people were enrolled in the program.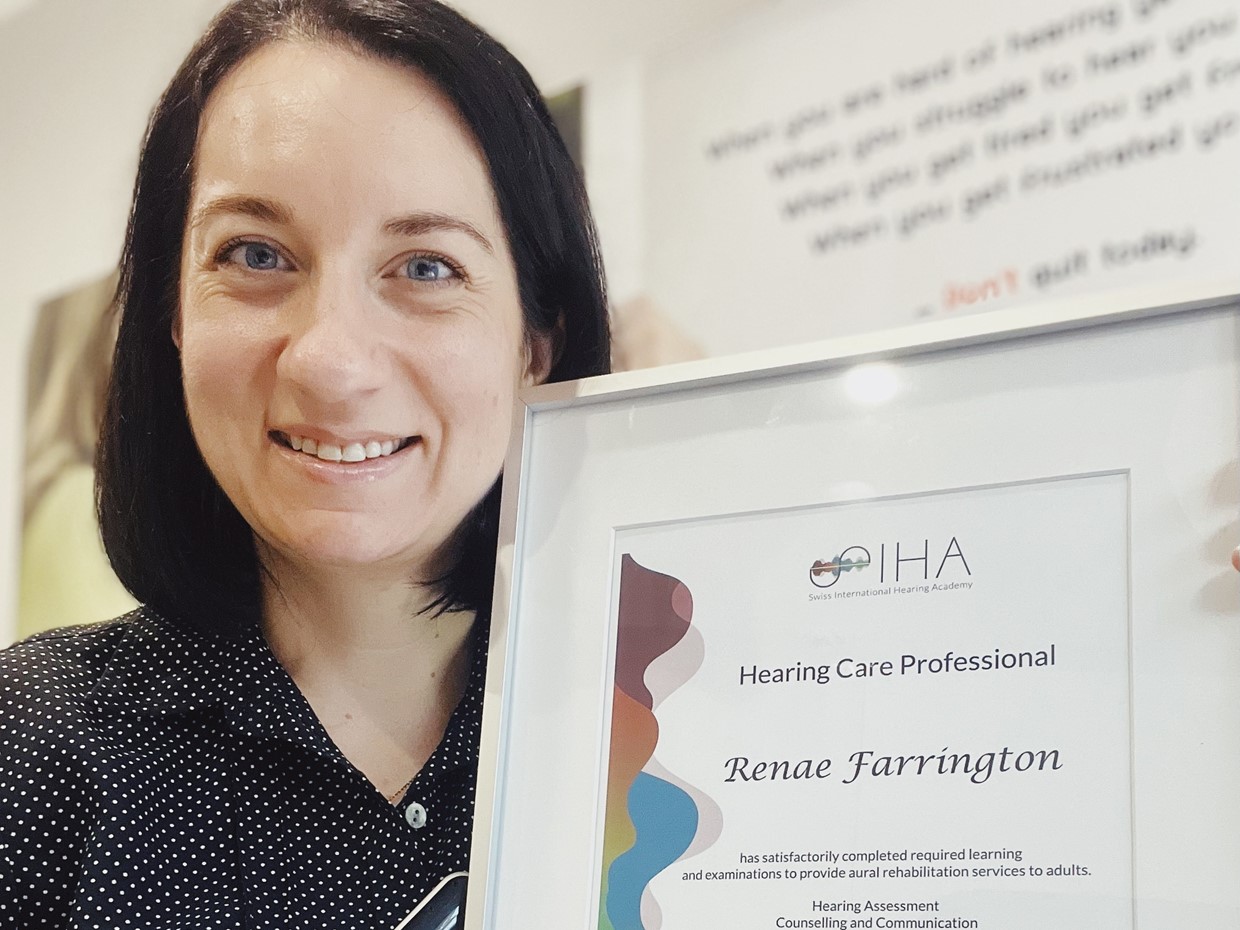 SIHA program enabled Renae to become a hearing care professional
Renae Farrington has been living with hearing loss since early childhood: she started wearing hearing aids from an early age. Motivated to help others who are in the same situation as herself, she changed careers from the construction industry to start work at Connect Hearing in Geraldton, a city serving a large and remote area in Western Australia. After two years as a client care representative, she grasped the opportunity to boost her skills through the SIHA program, gaining a broad base of audiological knowledge through self-study and practical studies. Renae is now a member of the Australian College of Audiology and is providing in-person and remote care to people across a wide stretch of Australia's West coast.
Sonova has established additional training and education efforts in local markets, including in China, where the challenge of a rapidly growing number of people with hearing loss (due to an aging population) has put strain on an already under-resourced hearing care system. In 2022/23, Sonova acquired HYSOUND, an audiological care company with branches in cities across China, expanding Sonova's footprint in the country. We launched a new one-month training program for local HCPs and more than 2,300 have enrolled. We also offer advanced audiology knowledge and practical skills training to HCPs from our wholesale customers in China through the Sonova Grand Hearing Institute, a dedicated audiology training center. It features soundproof rooms for hearing tests, a fully functioning pediatric diagnostic clinical room, workstations for fitting and evaluating hearing aids, a dedicated lab for ear-molds, repairs, state-of-the-art video otoscopy and otoscopy training tools, cerumen removal, and middle ear analysis testing. In addition, Sonova provides technical support to help address the significant lack of practical knowledge about hearing aid fitting among hearing care professionals. In 2022/23, the Sonova Audiology team provided monthly technical and training support sessions for its wholesale customers in China to a total of 95,000 attendees.
Since 2019, the Sonova Academy in Dortmund, Germany has provided comprehensive training and development opportunities to future HCPs at the cutting edge of science and technology in modern training facilities. The program's in-person and eLearning modules complement Germany's existing training offerings in hearing acoustics, and the Sonova Academy cooperates closely with the German Academy for Hearing Acoustics and the German Vocational School for Hearing Acoustics. Participants are trained on theory and practice in hearing studios, seminar rooms, and an earmold laboratory. In 2022/23, our teams trained around 1,600 participants through online training courses and 780 participants in onsite training courses. The participants completed a total of over 27,500 individual training modules.
Philanthropy
Hear the World Foundation
Sonova's philanthropic efforts aim to increase access to hearing care for children in low- and middle-income countries. We launched the Hear the World Foundation (HTWF) in 2006 to support this aim by providing funding, expertise, and hearing solutions. The mission of the HTWF is to improve the quality of life of people in need with hearing loss worldwide and to create equal opportunities by giving them access to holistic and sustainable hearing healthcare. The HTWF operates in two areas: providing quality hearing care to children and building hearing care capacity in low-and middle-income countries to create lasting positive social impact.
Hear the World Foundation target:
We aim to increase lives impacted by the Hear the World Foundation (HTWF) by 10% year-over-year – focusing on children with hearing loss in low- and middle-income countries.
This target has been surpassed in 2022/23: 2,880 hearing aids were fitted in projects supported by the HTWF, compared to 2,260 devices in the previous year. In the same year, the HTWF rolled out a new impact measurement and management system that allows it to better monitor its achievements through key performance indicators, such as the number of children screened, diagnosed, and fitted, as well as the extent of aftercare and auditory habilitation. The system also tracks training of qualified professionals, and local capacity building.
The HTWF supported 14 projects worldwide in 2022/23: these provided 68,750 hearing screenings for newborns and children, fitted hearing aids for 1,760 children, and invested in hearing loss prevention, holistic audiological care, and caregiver support. The Foundation also enabled basic and advanced audiological training for a total of 2,820 hearing care professionals and volunteers. Sonova employees work voluntarily for the Foundation and contributed 1,320 hours of their time. Detailed data is published in the annual Activity Report on the HTWF website; it also provides further information on the Foundation's activities, goals, and impact.
Hear the World Foundation activities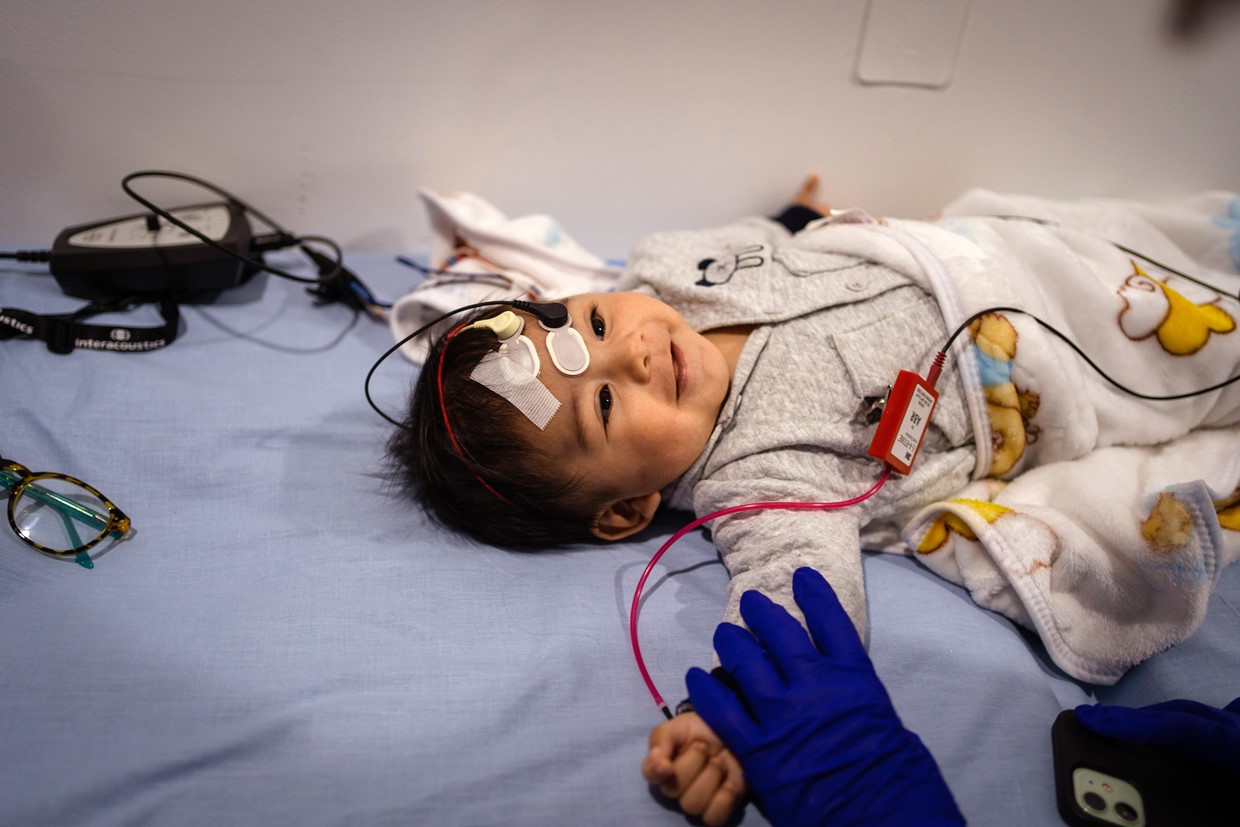 Long-term project engagement in Peru
Since 2016, the Hear the World Foundation has supported the Oír Para Crecer (OPC) project in Peru. OPC aims to increase access to hearing care for the country's lower-income people and further improve that care's quality. The project builds capacity, progressively extending services from the capital in Lima to outlying provinces. It also systematically collects and analyzes data in support of its efforts to integrate hearing care better into the public health system. Since 2017, more than 800 children have been fitted with hearing aids, and more than 260 people have been trained by OPC in Peru.
Philanthropic contributions
The total monetary value of Sonova's contribution to corporate citizenship and philanthropic activities in the 2022/23 financial year amounted to more than CHF 7.1 million. The majority of this monetary value was in the form of contributions to community partner organizations through the HTWF, along with various sponsored research projects related to the topic of hearing. Sonova also made contributions to international organizations providing humanitarian support to the people of Ukraine.
Monetary value of philanthropic contributions by type of activities
Monetary value of philanthropic contributions by type of contribution