Strategy and businesses
Consumer Hearing business
Creating early, meaningful engagement with consumers through extraordinary audio and hearing experiences, while expanding the market for all of our businesses.
We emphasize our vital role throughout each consumer's individual, life-long hearing journey. The joy of catching every nuance in a musical performance; the excitement of being swept up in a film soundtrack; the happiness of shared, clear conversation around a table, without distracting noise… these are all pleasures that can be extended and sharpened by our solutions long before a hearing loss is recognized.
For more than 75 years, the Sennheiser brand has stood for uncompromising commitment to sound quality. In acquiring the Sennheiser Consumer Division, the Group has added its own expertise in enhancing speech clarity, comfortable fit, and miniaturization. Under the Sennheiser brand, our Consumer Hearing business pursues the vision of extending its leadership in premium consumer audio – while becoming a go-to brand for situational hearing solutions.
Consumer Hearing has four product categories: premium headphones, audiophile products, hearing solutions, and soundbars for an immersive audio experience. Our strategic product priorities include a focus on the premium audiophile segment, building on Sennheiser's strong brand and state-of-the-art transducer technology; extending our offering in premium True Wireless in-ear headphones that match superior sound quality with custom fit and sensor expertise; and shaping the emerging consumer hearing market with early-entry hearing solutions that bridge the gap between audio products and hearing aids.
Sonova and Sennheiser: coming together, moving forward
The acquisition of the Sennheiser Consumer Division closed in March 2022, and since then the transition into a combined business has proceeded quickly and smoothly. The joint senior leadership team is in place and has successfully integrated our teams supporting consumer hearing solutions in product development, operations, and sales organizations worldwide. Sonova's vision and culture have proven to be a close and natural fit with the Sennheiser brand and people. The Sonova X business system of continuous improvement, including process optimization, lean manufacturing, and growth tools, has started to generate meaningful productivity gains, supporting our planned margin expansion for the Consumer Hearing business.
A combined innovation roadmap has generated an impressive 12 product launches in this financial year, four of which represent significant steps forward in key business areas and are described below. Despite global supply chain challenges shared with other electronics industries at the beginning of the year, all Consumer Hearing products are fully available in all significant markets, and sales have grown year-on-year well beyond the consumer audio industry growth average. This outperformance is due both to our innovative product portfolio and to our emphasis on high growth sales channels and regions.
STRATEGY AND BUSINESSES
Among the seven strategic initiatives defined by the Consumer Hearing team, three focus on our go-to-market priorities, aiming to secure the advantages that have helped to generate this year's sales performance. We aim to increase the proportion of online sales from 50% to 75% over time, allowing us to get ever closer to our consumers and control our brand and pricing destinies. We are investing in data analytics and CRM automation to optimize our digital marketing, performance insights, and digital consumer experience, extending each contact into a full hearing journey. We are also continuing to build our audiophile leadership positions in key growth markets, specifically the US and China, increasing brand awareness along with our online sales activities.
A step forward in every category
Our consumers, like us, take sound seriously: they expect each new Sennheiser branded product to extend the boundaries of their audio experience. The market response to our product launches in this financial year – covering all our strategic product categories – shows that we have achieved this goal.
In True Wireless, a particularly high-growth segment, we introduced in April 2022 the MOMENTUM True Wireless 3 earbuds, which set new standards for sound quality, adaptive noise cancelation, and wearing comfort – along with long battery life, wireless charging, and a splash-resistant design that makes them the perfect companion for an active life. They are rated "Best True Wireless Headphones" by Trusted Reviews and have boosted our share of the True Wireless market in all key countries.
The MOMENTUM 4 wireless noise-canceling headband headphones, launched in August 2022, are an audiophile's dream, defining – once again – the standard for sophisticated listening with superior sound. An entire acoustic system in a compact, beautifully-designed package, they feature brilliant dynamics and clarity, user-controllable sound modes, supreme comfort, and effortless phone and voice assistant interaction, coupled with an unprecedented battery life of more than 60 hours. The audiophile press regularly rates them as top in their class.
Our AMBEO soundbar range harnesses sophisticated signal processing and self-calibration to create the sensation of a vast 3D soundscape in a compact package, turning the smallest room into a concert hall, a stadium – or a savannah. Launched in October 2022, the AMBEO Soundbar Plus and AMBEO Sub extend this remarkable performance in two directions: a smaller format and, thanks to the AMBEO Sub's clear and powerful bass response, a deep and immersive sound experience "designed to give you goosebumps."
Entering the early entry hearing solutions market
The first Sonova-developed product launched under the Sennheiser brand was the TV Clear Set, which reached the market in May 2022. Building on Sennheiser's leading position in the television listener market, TV Clear Set adds enhanced speech clarity, easy connectivity with multiple devices, extra wearing comfort, and a straightforward but powerful app that allows users to personalize their experience.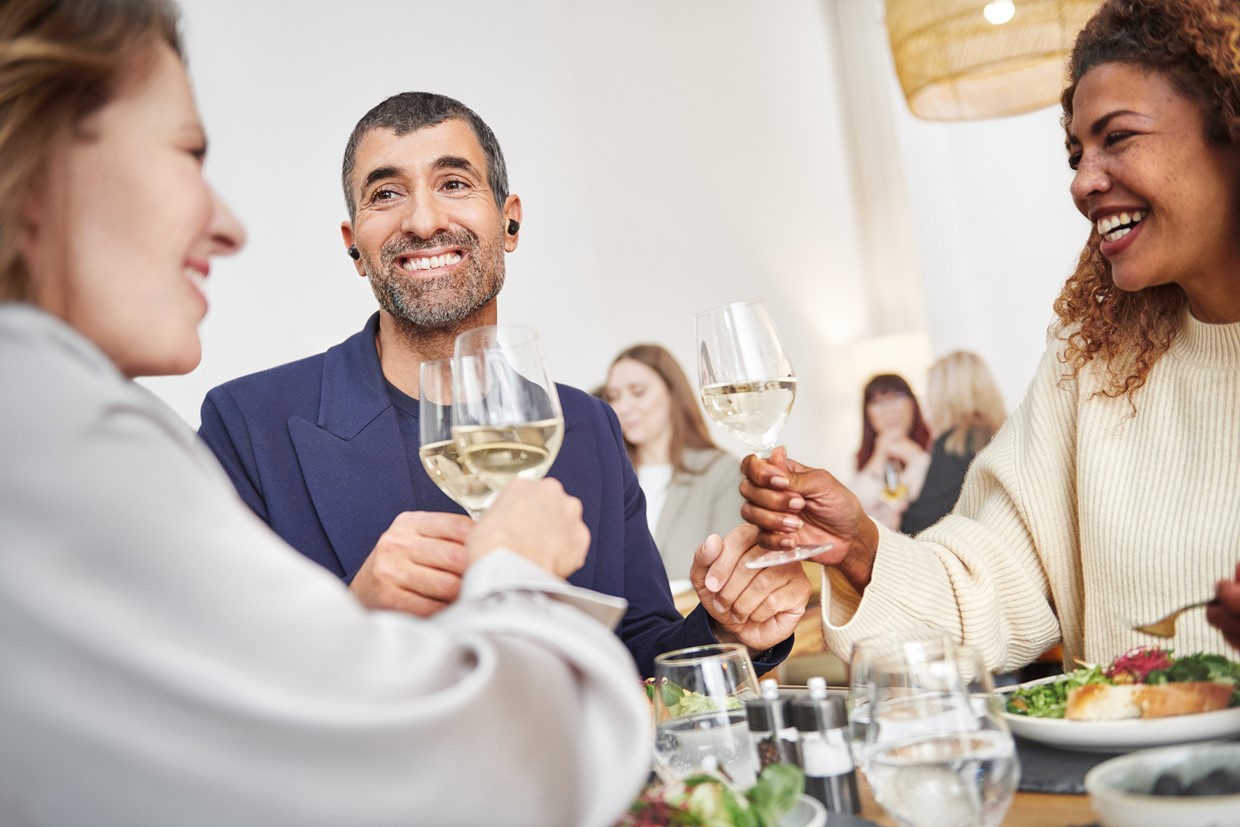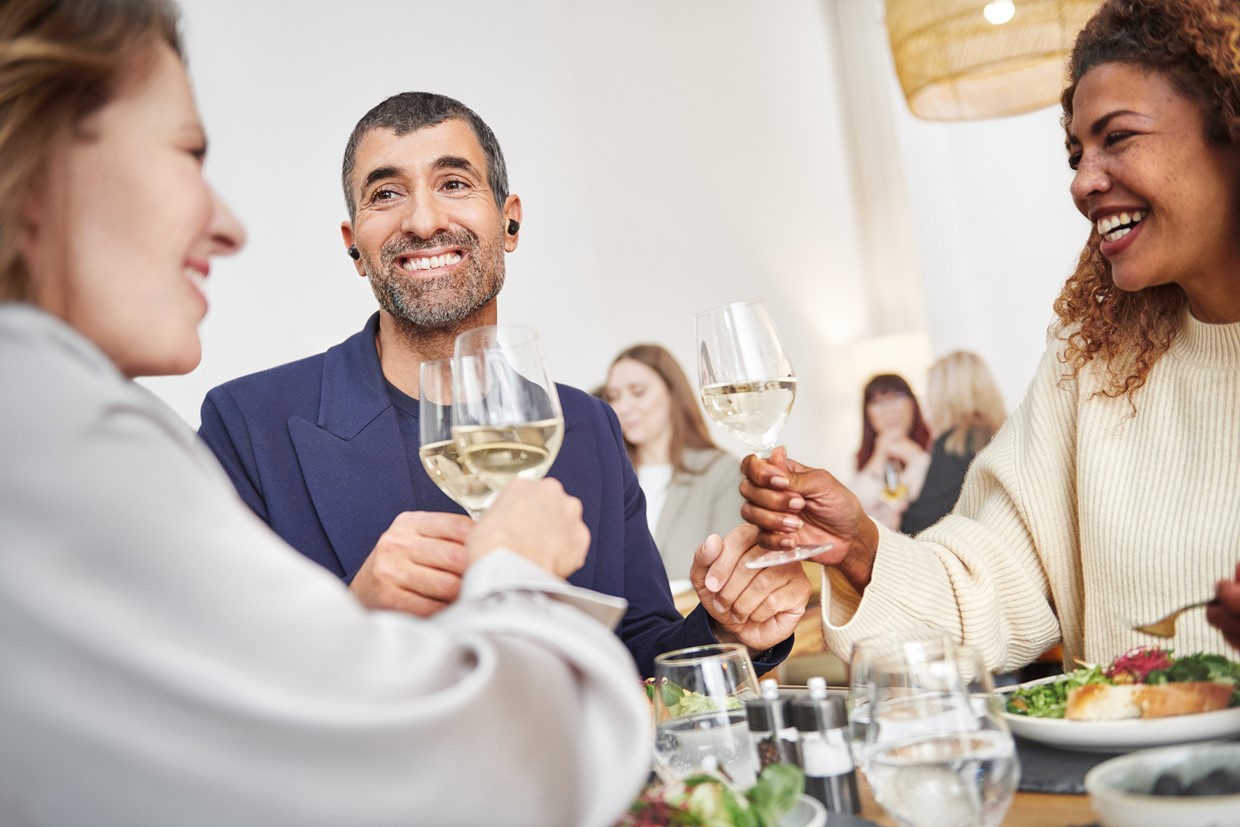 Watching television, however, is only one situation where enhanced speech clarity can enrich the consumer's sound world. We therefore launched in January 2023 our first speech-enhanced hearable device: the Sennheiser Conversation Clear Plus. These compact earbuds establish a new category of early entry hearing solutions: devices that support and enhance hearing in specific situations, such as busy restaurants or noisy worksites, while at the same time providing an excellent sound experience. They can be used whenever the user wants to enjoy effortless clear conversations, by detecting and analyzing the sound scene, adjusting their response, and activating adaptive noise cancelation. An independent study shows that 95% of users experienced significant speech enhancement in noisy situations when using the product 1).
One year in, the Consumer Hearing business is off to a good start, delighting consumers with a great sound and hearing experience, and pursuing the aim of reaching consumers wherever their hearing journey starts.
Conversation Clear Plus performance study, FORCE Technology, 2022.

Sennheiser is a registered trademark of Sennheiser electronic GmbH & Co. KG used under license by Sonova