Strategy and businesses
Audiological Care business
We continuously expand consumer access and engagement, offering the highest level of expert service and technology through an integrated omnichannel experience.
As the world's second-largest hearing care provider, our Audiological Care business employs over 8,600 people in more than 3,900 clinics, operating in 20 countries across five continents. We provide each consumer with the closest individual attention, understanding their needs and supplying expert professional advice and services along with best-in-class customized hearing solutions. Our strategic priorities are to expand consumer access and achieve profitable, above-market growth through a combination of organic initiatives and network expansion.
A fundamental driver for profitable growth in Audiological Care is the continuous improvement of our processes and optimization of our clinic network, embodied in the Sonova X business system. Each year, we aim to provide faster and better services for our consumers, maximize the value-generating time that our audiologists spend with their customers, and sharpen the precision of our lead generation. Building on this foundation, we pursue further digitalization of the consumer journey, deepening engagement through our omnichannel sales approach and making effective use of the contacts generated through our consumer apps. We are extending our consumer proposition with new product categories, including the Sennheiser branded offerings from our Consumer Hearing business, and new medical services, such as our SilentCloud™ tinnitus management app, promoting the connection between good hearing and good overall health. Finally, we continue to increase the density of our presence in key markets through targeted acquisitions and new greenfield openings.
Expanding market access
This year, we have continued to get closer to consumers by expanding our physical presence in tandem with our digital ecosystem. We added over 400 locations to the previous year's gain of more than 500 clinics and around 900 employees, including expert hearing care and digital marketing professionals. In the US, our March 2022 acquisition of Alpaca, one of the country's largest independent networks, contributed to doubling the number of clinics in this strategic market, adding a strongly complementary footprint in regions with high sales growth potential. The transition has progressed very smoothly, with a combined leadership team in place and strong progress on our growth initiatives. It is clear that we have highly similar visions for audiological care, emphasizing expert service and premium solutions coupled with a high degree of medicalization and value creation. The transition to products from our own brands in the network was completed in the last quarter of the financial year.
In China, a key growth market for us, our strategy has been to first establish a strong digital presence, hosting our branded app and digital ecosystem on TenCent's popular WeChat platform. We now have multiple branded sales channels across all major online platforms, including online Phonak flagship stores on JD and Alibaba's T-Mall. This broad and deep digital presence has given us significant brand recognition and provided us with valuable understanding of the needs and preferences of Chinese consumers, enabling further consumer-centered expansion.
We initially supplemented our digital presence by developing a successful network of fifteen AudioNova stores in the Shanghai region, joined by a full service World of Hearing store, which sets a new standard for audiological care in China. Additionally, in December 2022, we completed the acquisition of HYSOUND, a highly professional national network of more than 200 clinics in 70 cities across China, employing 600 experts in audiology. HYSOUND is an excellent fit for our Audiological Care business, strong on medical expertise and with a level of price, sales, and audiologists per clinic similar to European networks. We welcome our new colleagues and look forward to supporting them through our omnichannel proposition.
STRATEGY AND BUSINESSES
Augmenting the hearing journey
Over the past three years we have created an integrated digital ecosystem that gives consumers full freedom in how they access our range of products and services, and allows us to address their needs in a comprehensive, efficient, and personalized way. In-store, in-app, online, or on the phone – booking an appointment, buying an accessory, accessing a service – consumers can interact with us wherever and whenever they wish, confident in the knowledge that we will respond with the combined power of our digitally-linked expertise.
State-of-the-art lead generation is a vital function that brings consumers into this digital ecosystem. Started in 2019, the Audiological Care in-house Lead Generation Hub has the mission to engage new consumer segments more cost-efficiently, while building up our proprietary consumer database and digital competencies. The ultimate aim is to provide each prospective consumer with personalized marketing information, so that they know what we can do for them before they even walk into a store. In the five markets where the Lead Generation Hub has been implemented, this initiative has produced excellent results: sales conversion rate is up by double digits compared to external lead acquisition. The average sales basket value is higher than the country average, while the average new consumer age is approximately ten years younger – significantly increasing the life-long value of each consumer. Moreover, the brand familiarity generated by effective marketing gives us an opening to propose further targeted solutions, including medicalized services or other audio and hearing devices.
Broadening the consumer proposition
The Audiological Care business deepens its relationship with each consumer by opening further channels for interaction and service, bringing our expertise into play at every point of the hearing journey. This increasingly allows us to make the connection between hearing health and health in general – both through new sensors and capabilities in our solutions and through the digital services with which we support them.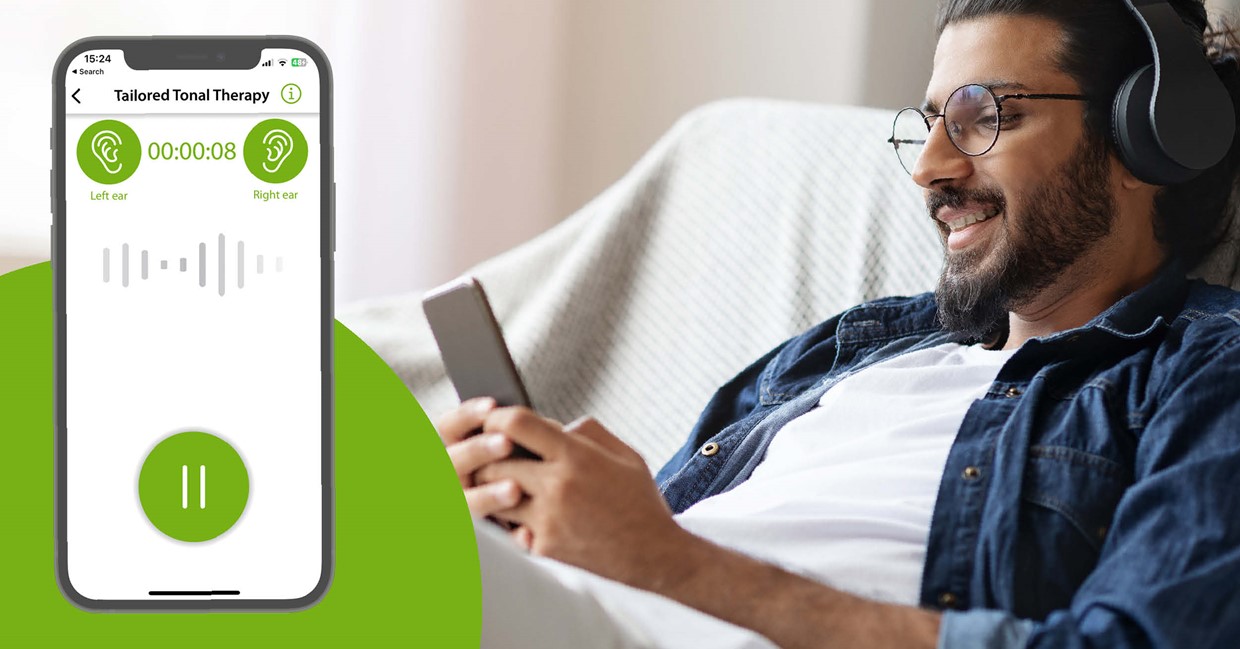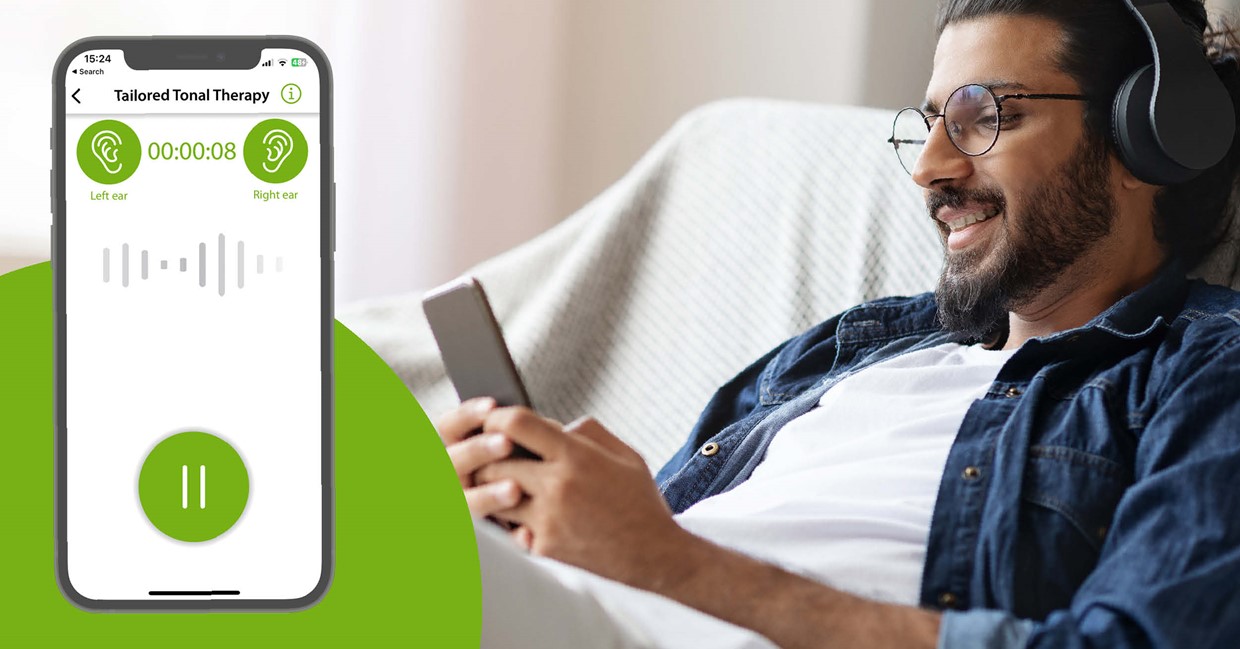 In February 2023, we announced the launch of our SilentCloud™ app, a powerful medically-regulated tool for self-paced tinnitus management that offers therapies, education, and counseling. Tinnitus affects 10 – 15% of the adult population; other than hearing loss, tinnitus is the condition that our consumers most want us to address. Consolidating a range of proven therapies recommended in well-established clinical guidelines, SilentCloud™ enables users to actively manage their tinnitus from home while being guided by one of our trained audiological care experts. The app's content has been validated in numerous clinical trials and showed significantly positive outcomes. SilentCloud™ is currently available in Belgium and Italy; a rollout in further countries will follow later this year.
The MyAudioNova app, launched in April 2023, is the easy-to-use but powerful access key to the digital universe of Audiological Care. Thanks to our unique universal connectivity, the app links to the consumer's hearing instrument, enabling remote connection to our audiologists for expert advice and adjustment, along with hearing education and training programs such as SilentCloud™. The app also gives the consumer full access to our omnichannel eCommerce and service capabilities, including booking an appointment or getting in contact with an audiologist for technical or medical support.