Audiological Care business
A new world of hearing
The Sonova Group has been setting new standards in the hearing care industry with innovative store designs. The focus is on interactive experience, innovative products and services for complex hearing conditions such as tinnitus. The world's first specialist audiology store designed according to this model was opened by Sonova brand Schoonenberg in Dordrecht in December 2018.
Willem van Gent puts on the headphones. Sitting at a large monitor in a darkened booth known as the "experience room", he is experiencing his hearing loss and the effect of a hearing instrument. A video is running on the screen in front of him – a pop band is playing at full throttle and the piano player is hammering away at the keys. The 64-year-old suddenly stops short, exclaiming in complete astonishment: "I haven't heard these high notes in years. This is just incredible!"
Several weeks have passed since this aural epiphany in the World of Hearing shop in Dordrecht, and Willem van Gent, a quality control inspector for a large agricultural produce company and a passionate fan of blues rock, has since been fitted with a Phonak Marvel. The hearing aid has brought him a new lease on life. "I can hear like I did 25 years ago. When I stream music via Spotify, it sounds really good. It used to sound weird." He had only realized that he was no longer picking up on every sound frequency when the audiologist in the World of Hearing experience room played him the same rock concert – first with no hearing aid, then with a Phonak Marvel device.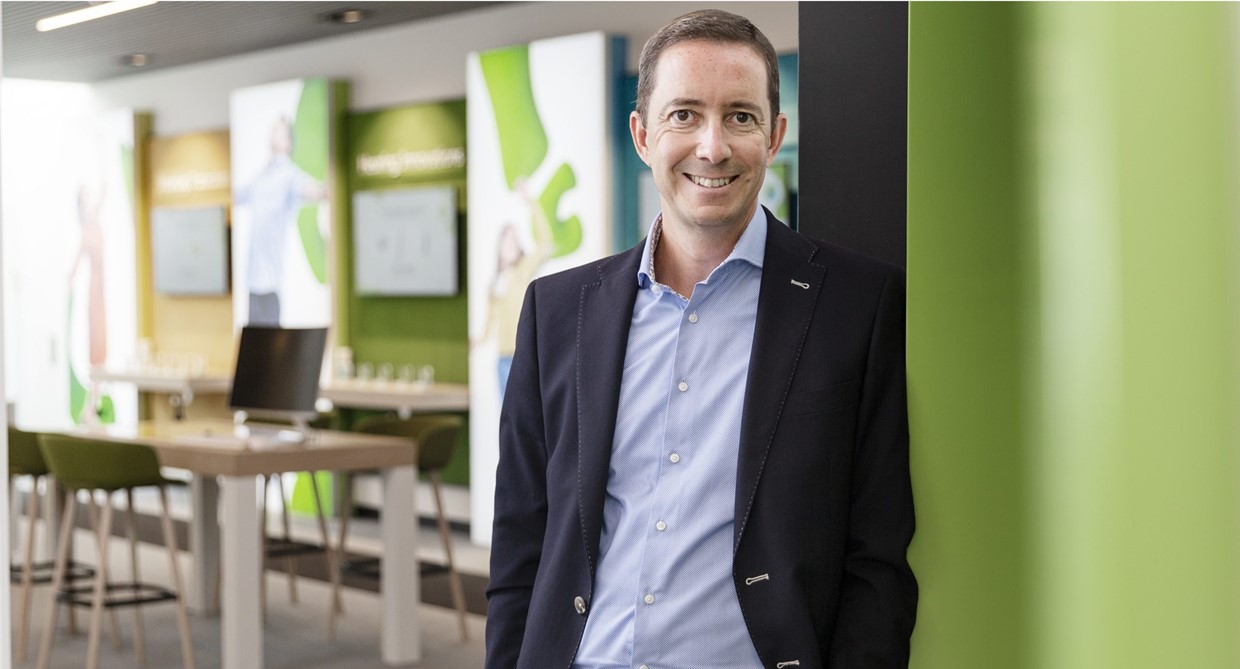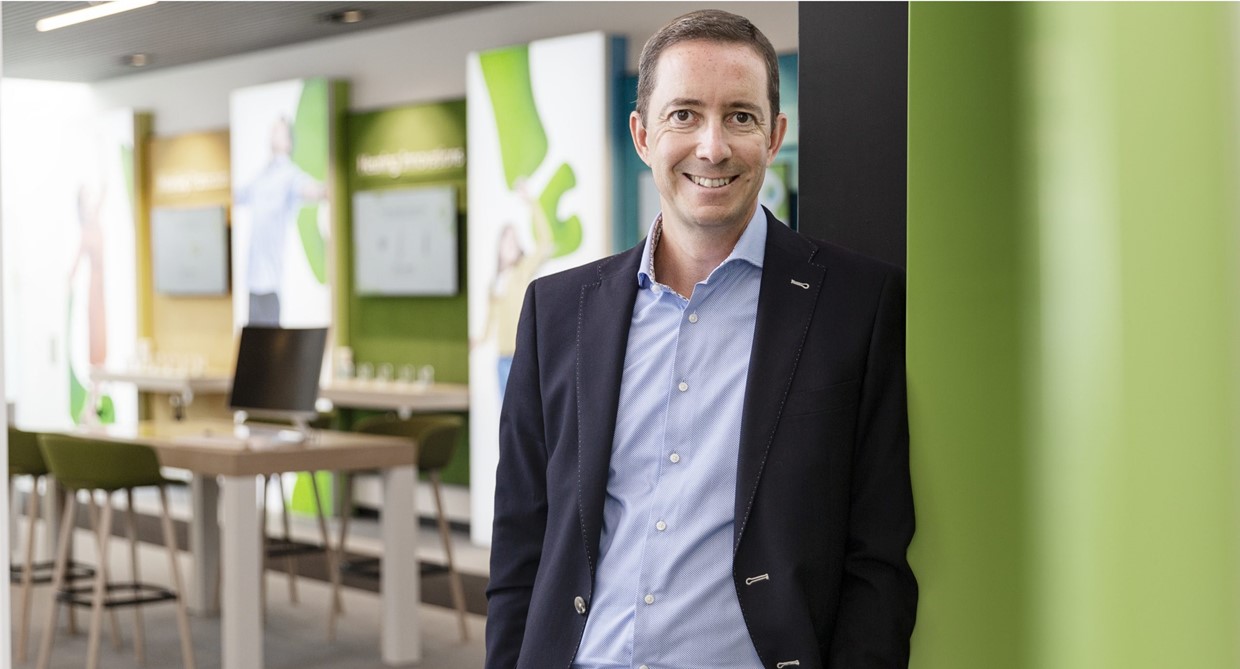 Steven Thomas, Managing Director Sonova Audiological Care in the Netherlands
"A lot of our customers have had the same 'eureka moment' as Willem van Gent," explains Steven Thomas, Managing Director Sonova Audiological Care in the Netherlands and co-designer of the innovative "World of Hearing" concept, whose pilot store is located in Dordrecht, South Holland, about 12 miles southeast of Rotterdam. "Back in the day, customers just had to take it on faith when the audiologist told them that a technology or a device was better. Now, they can check it out first-hand in the experience room, or in real-life situations such as a restaurant visit or a concert."
The high-tech sound booth, which looks like a two-seater private cinema, is not the only special feature at the World of Hearing audiology store, however. Even at first glance, the entire store has little in common with a traditional audiology business: the inviting open-plan store layout, with the sound booths located to the rear, encourages customers to explore the space. As soon as customers enter the store, they encounter the first of several interactive tables. Using the "Lift & Learn" system, they can take products from the shelves and place them on these tables to learn more about them. Here's how it works: the products – a hearing aid, for example – are presented in little display cases and can be taken out and placed on a particular area of the interactive tables. The technology immediately recognizes the product and sends information to the screen. "At first, lots of young people came in just to play with the interactive tech in the store," says staff member Conny Polleunis, an audiologist who has specialized in the new shop design.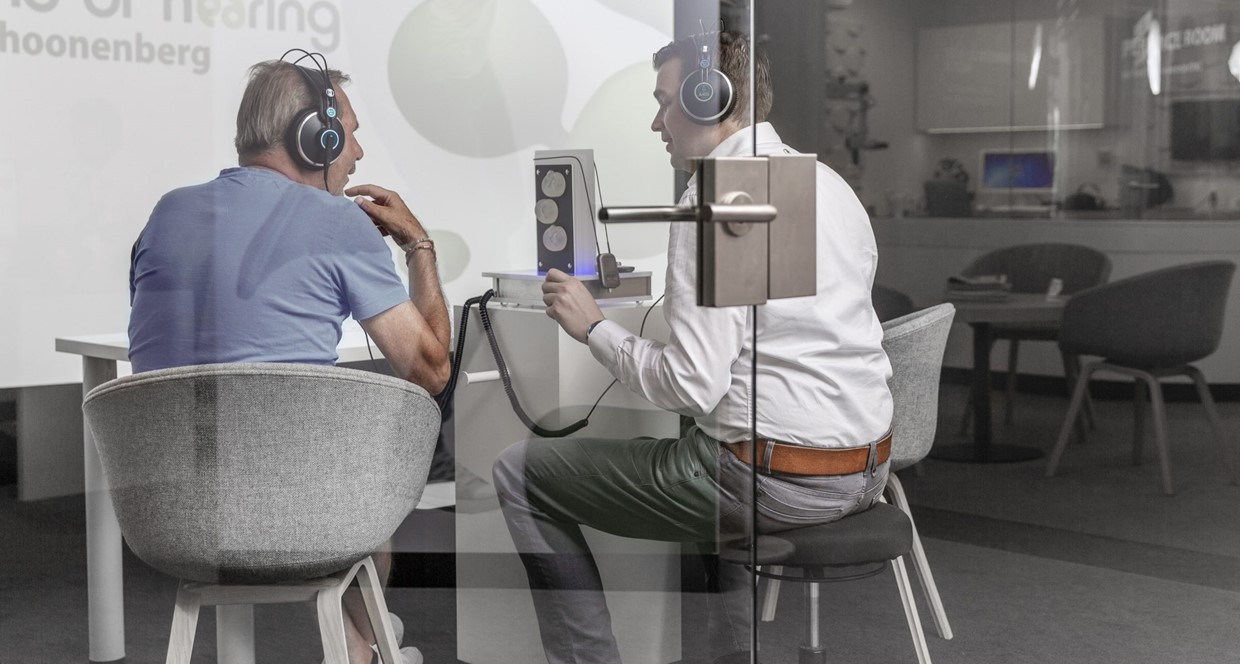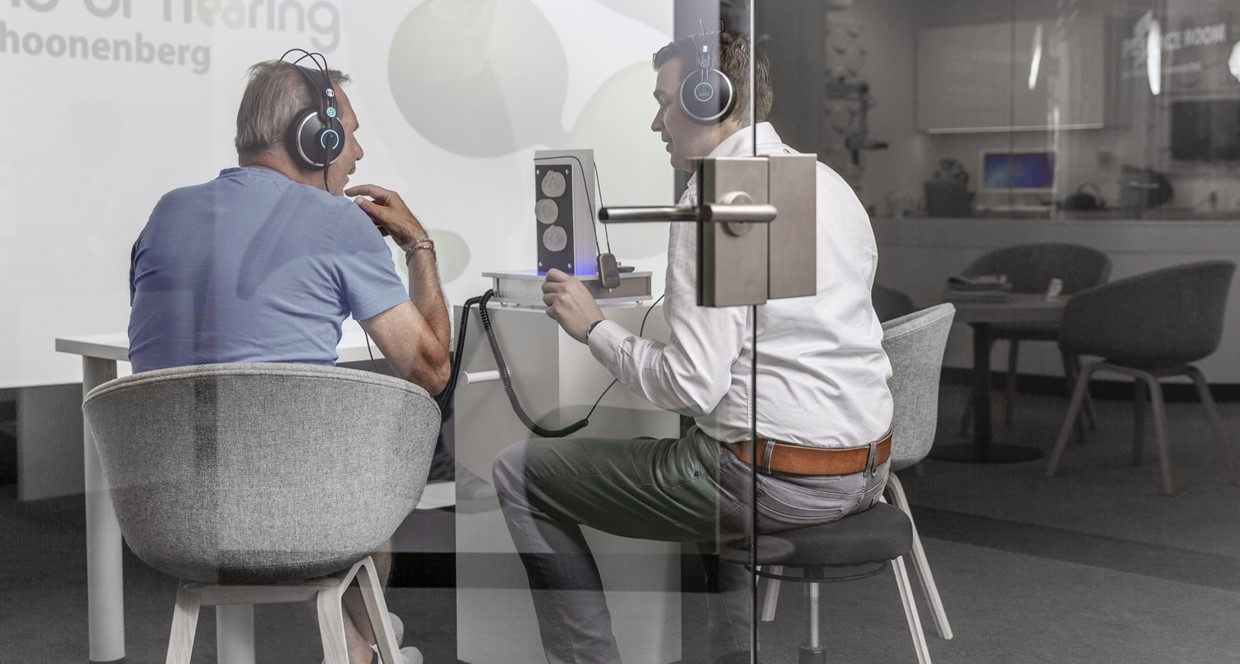 Customer Willem van Gent in the "experience room"
The store is divided into three thematic areas: hearing protection, hearing innovations and expert solutions. As Conny Polleunis explains, "We didn't just want to help people with hearing loss; we also wanted to support people with normal hearing – which means that there is something of interest even for folk who have just wandered into the store out of curiosity." The hearing innovations area presents new hearing solutions such as Phonak Lyric, the first 100% invisible hearing device that can be worn 24/7 for months at a time. Steven Thomas, World of Hearing's Managing Director, explains: "Our market research has consistently confirmed that it's the invisibility of a device that seals the deal for customers. This is why it was important for us to be able to offer our customers this kind of technological innovation."
The third and last thematic area is aimed at people with complex hearing problems such as tinnitus, severe hearing loss, pediatric solutions and staying often in complex listening environments. World of Hearing also works with the Sonova brand Advanced Bionics, which provides cochlear implant solutions. In addition, the store offers consultations for tinnitus. Says Steven Thomas: "It's crucial nowadays to offer medical services, and we want to expand this in future to include treatments and preventive measures for the vestibular system located in the ear."
Its new design and the many innovative and interactive features make World of Hearing a specialist audiology store of the future, capable of taking customers on a journey of discovery through their own hearing experiences. The relaxed atmosphere, the option to just drop in and receive a bespoke audiological consultation without an appointment, trying out hearing aids in typical virtual situations in the "experience room", even with the offer to test them in real life immediately – all this helps to demonstrate the added value offered by high-end hearing aids in a tangible way.

Since the store opened in the middle of Dordrecht's pedestrianized zone in December 2018, World of Hearing has significantly expanded its share of the private market (i.e. the market for devices not covered by health insurers) within a matter of months; it has also attracted a clientele that is around five years younger on average. Given this success, Sonova is planning to roll out the concept internationally, and further World of Hearing specialist audiology stores are set to open in other countries in the coming years starting in 2020.
The new store's successful design, with its focus on interactive experiences combined with innovative products and services has also convinced customer Willem van Gent: "After just a few minutes with the Phonak Marvel, I knew I couldn't bear to be without the device anymore."