Access to hearing care
Phuong can hear raindrops
Cochlear implants are unaffordable for many families in Vietnam. This is precisely why the Hear the World Foundation supports projects all over the world to help disadvantaged people affected by hearing loss. This support focuses in particular on projects for children, enabling them to achieve their full potential. Three-year-old Phuong is due to receive a cochlear implant that will allow her to hear again. It will mark the beginning of a new life for the little girl.
Phuong and her parents set off for their appointment in Ho Chi Minh City just after sunrise. All three of them are travelling the 35 miles from their home town to the metropolis in the south of the country on their moped – the young family can't afford a car. The journey lasts two hours, amidst a cacophony of strident horns as vehicles force their way through the city's morning traffic. Very little of this urban dawn chorus registers with Phuong, however. She is affected by hearing loss, and not even a hearing aid can help her with high frequencies.
Today, however, the little girl's life is set to change forever. Phuong and her parents are on their way to a specialist audiology store run by the Sonova brand Connect Hearing, and a new life is about to begin for her.
Phuong is participating in the "CI Vietnam" aid program. With this initiative, the Hear the World Foundation, together with the Global Foundation for Children with Hearing Loss, supports children with hearing loss who are dependent on complex technology. Ten children from low-income families in Vietnam have been selected to take part, and these will receive a cochlear implant that relays signals to the auditory nerve via electrodes in the cochlea. "This will enable children to learn how to speak and take part in lessons at a mainstream school," says Elena Torresani, Director Hear the World Foundation. "Our goal is for them to live a life without limitations and be able to grow up like any other child."
Phuong and her parents arrive at the audiology store an hour too early. The little girl is wearing sandals, a checked skirt and a white blouse. Her hair is only a few millimeters long – her head had been shaved in preparation for the operation to fit the implant. Now, a little more than a month later, the system is set to be activated. "I'm excited and happy that this day has finally come," says Phuong's mother Mai.
The girl is the 33-year-old mother's second child, and her elder daughter was also born with severe hearing loss. "I was saddened and shocked when I learnt that Phuong had the same problem," recounts Mai. She and her husband Tien come from poor backgrounds in northern Vietnam. They moved south to where much of Vietnamese industry is located in the hope of improving their income, with Mai finding work in a textile factory and Tien working on building sites. Together, they earn the equivalent of around USD 500 a month. The hearing aids for their two daughters cost several months' income each – "a fortune," says Mai. The family had to rely on loans and help from friends and family. In Vietnam, there is no state health insurance that could offer support in such cases.
Despite the hearing aid, however, Phuong's hearing was getting worse and worse and a cochlear implant was simply not an option for the family, because of the cost. Things changed only when Mai found out about the project run by the Hear the World Foundation and the Global Foundation for Children with Hearing Loss through her daughter's special school. "I immediately wrote them a letter," she recounts. "When I found out a few months later that we had been accepted, I cried with joy."
May and Tien have both taken time off work for activation day. They join their daughter in taking a seat at a child's table in a soundproof room in the audiology store. Phuong spots a yellow plastic duck amongst the toys. "Duck, duck," she cries. Considering her hearing loss, her pronunciation is unusually good, and this is indirectly because of her elder sister: as her parents were already aware of the help that was available to them, Phuong received dedicated speech therapy at a specialist school from an early age.
There is a specialist sitting opposite Phuong and her parents in the audiology store as well. Nguyen Thi Thien Huong is a qualified hearing care professional. Born in Vietnam, she studied in the USA before returning to her homeland to help her fellow citizens with hearing loss enjoy a better future. Her expertise is a rarity in the country, as there are no degree courses available to qualify as an audiologist. Nguyen has been working for Sonova since the end of 2012 and she now volunteers for the Hear the World Foundation project.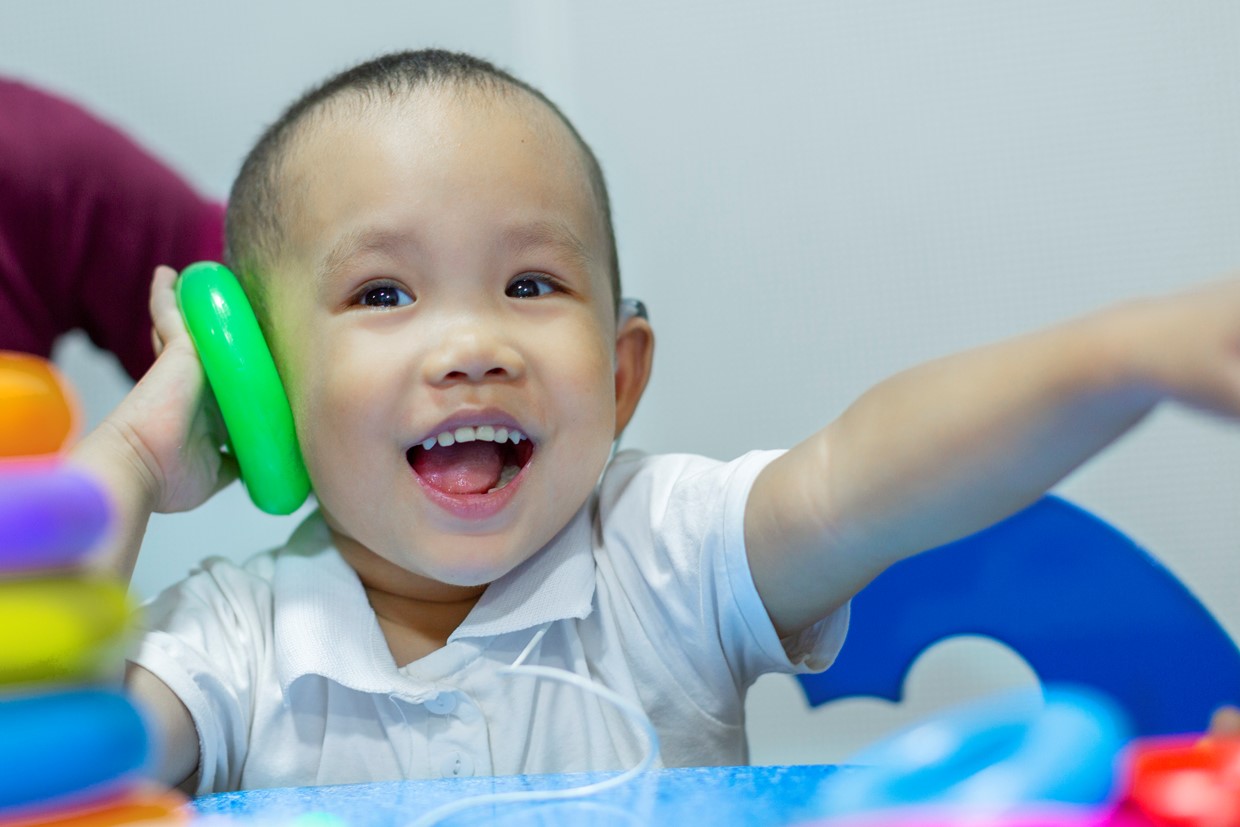 Phuong can hear again thanks to the cochlear implant
Nguyen uses a cable to connect Phuong's cochlear implant to a computer. She tests whether the device is working and programs a bespoke hearing profile on-screen. Phuong is still completely unaware of all this activity – she is playing with the duck and some colorful plastic tires. All that is required to activate the cochlear implant that will make Phuong hear again is a single click in Nguyen's software. She gives the parents a quick sign just before the moment of truth. They have no idea how their daughter is going to react to the change. A lot of children cry, others beam with happiness when they hear their parents' voices. Nguyen clicks. Phuong glances off to one side briefly. She appears to reflect momentarily on what has just occurred. Then she carries on playing, as if nothing had happened.
The audiologist explains that she aims to elicit a reaction that is as neutral as possible when activating the implant, adding that she initially sets the cochlear implant to a low level to give the child time to get used to it. She then asks Phuong to do a test. The little girl is to hold plastic rings to her ear and place one on a stick every time a certain sound is played. Phuong has no problem performing this task. "Well done," says Nguyen approvingly each time. Phuong smiles, and her father and mother do too. The audiologist has good news at the end of the test: the cochlear implant is working even better than expected. Nguyen would normally only have expected a discernible reaction above 60 decibels, but Phuong was able to clearly perceive sounds at a volume of 40 decibels. "I'm very happy with the result," she says.
It is raining when the parents leave the audiology store and the raindrops are drumming on the umbrella. Delighted, Phuong looks up at the sky – she can hear the rain now.