Investment in people
Global networking for diversity and inclusion

The first Global Woman Network meeting was held in Sonova's headquarters in Stäfa in the summer of 2019. Co-founder Julie Dopko was an enthusiastic participant. As Senior Director of Human Resources for North America, she explains how to achieve diversity and inclusion in the workplace.
"Pursuing a career without limitations" is written up in large characters on the LED wall in the Audimax conference room at Sonova's headquarters in Stäfa beside Lake Zurich. The slogan for this inaugural Global Woman Network event sums up what the conference is all about: diversity and inclusion. For two-and-a-half days in July 2019, the hearing aid specialists gathered staff from a range of countries to explain, debate and brainstorm how traditional career barriers can be overcome and an inclusive corporate culture established at Sonova.
One of the around 20 women committed to this cause who are taking part in these intensive discussions is Canadian Julie Dopko. As Senior Director of Human Resources, she is responsible for Canada and North America, one of the company's largest talent pools worldwide. The HR manager from Kitchener, Ontario, not only brings considerable experience of the issues to the table (she has been actively promoting them through various projects at Sonova Canada for some three years now), but her own career is also proof positive of how well diversity and inclusion can work. Julie Dopko has not let her private life take second place to her job and yet she has risen to the top HR role in her Sonova Group company.
The mother-of-three has taken parental leave after every birth, even spending four years away from her job after her last child was born. "I was at home for a total of about 11 years and then came back in part-time, switching to full-time only later on." While aware that this is somewhat unusual for a woman in her position, she managed it because she and her husband divide up the tasks equally at home and, in parallel with her parental duties, she always kept up her networking and stayed in contact with her peers. "I'm the best example of children not spelling the end of a career. Without them and these breaks, I would probably not have got half so far in my career."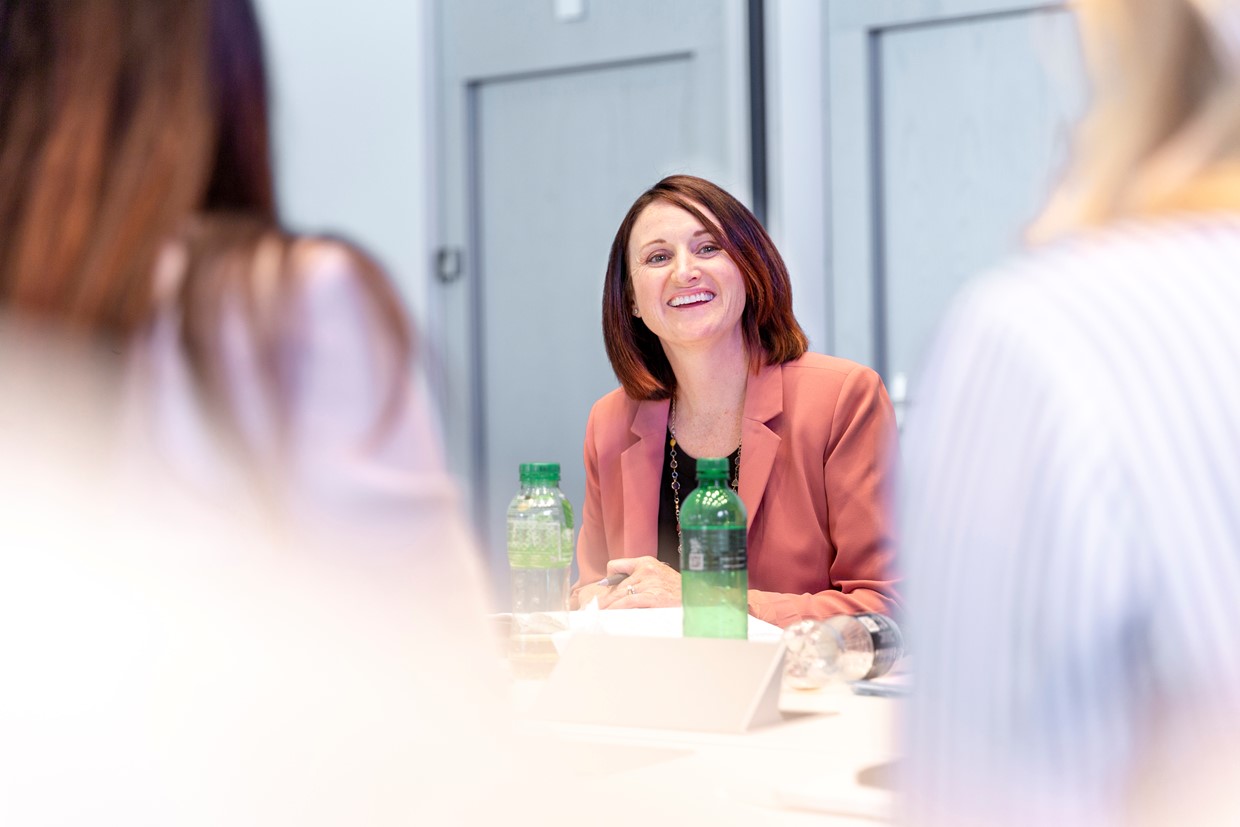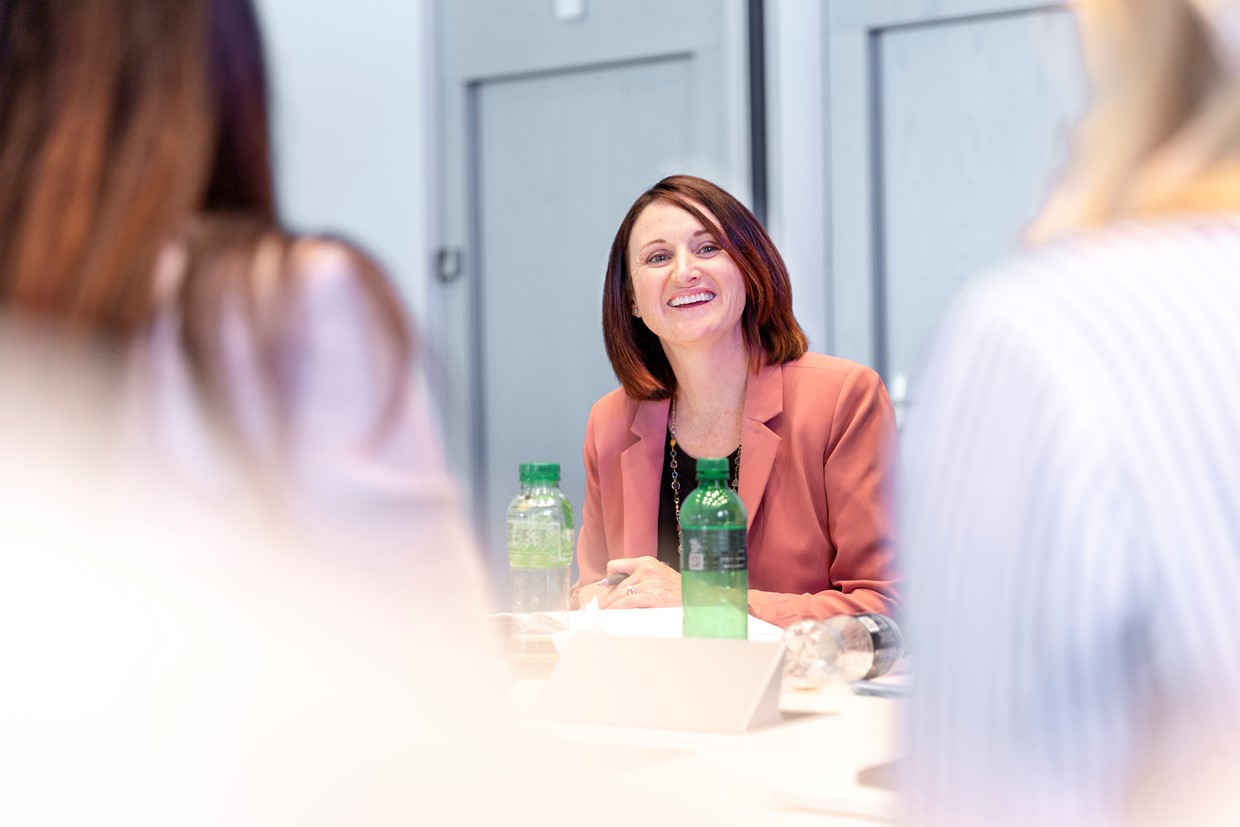 Julie Dopko at the Global Woman Network event in Stäfa
Taking over her role in HR at Sonova in 2016 and noticing that there were only a few women in managerial positions, she immediately realized that she had to get things moving. "My philosophy is that the higher up you are in an organization, the greater your responsibility is to give something back. I wanted to see more women in executive roles at Sonova." The word, the deed. She promptly emailed eight women in her immediate team at work, asking if they would like to meet up for lunch once a month to discuss work issues. After only three months, the group had grown to 80 women. Julie Dopko knows every individual personally and has since worked up mentoring guidelines that are intended to help bring staff together – not just locally, but also on a global scale within the Sonova Group.
A range of topics are discussed at the network's lunch meetings in Kitchener (which have now moved from the conference room to large, specially booked presentation rooms), including how to strike the right balance between work and family life. Guest speakers give talks on self-awareness and self-confidence and book reviews are also organized. In addition, external networking organizations are invited, such as the Girl Geek Dinner, an informal organization set up to advise companies on how to recruit more women into MINT (Mathematics, IT, Natural Sciences and Technology) professions.
Julie Dopko's commitments in Kitchener include meetings with Claudio Bartesaghi, Group Vice President Corporate Human Resources Management & Communications. When he moved to headquarters in Stäfa, he asked the Canadian to work with Mevina Caviezel, Director Branding & Corporate Responsibility, to draw up a new diversity and inclusion strategy. The outcome of this project was integrated into the Group's global corporate strategy in June 2018. "That was a high point for me and an endorsement of all my efforts. It sends a message that it is time to promote more women to executive positions. Inclusion is important. If we want to be an innovative and competitive organization, it's not enough to be the world's best hearing aid provider; we need to become more attractive as a company in order to attract talented people. Nowadays, people want to work for a firm where diversity is not just a nice-to-have but is high on the list of priorities."
45-year-old Julie Dopko has no shortage of plans and ideas up her sleeve, and she has presented several of these at the Global Woman Network meetings in Stäfa, along with the colleagues from other countries and departments. The network ambassadors' ambitions include ensuring more diversity amongst job candidates, rolling back prejudice by using standardized interview forms, enhancing communication between network members, and getting greater buy-in from male staff. Julie Dopko is very happy with the results to date: "The passion shown by my colleagues and the way we are supporting each other is extremely encouraging. When I think that I set up my first group only three years ago and that Sonova already has four official networking groups around the world now, with D&I integrated into our corporate strategy, it makes me very proud. There aren't that many companies that have made it this far. I'm excited about where the journey will take us next."