Cochlear Implants business
Collaboration based on trust
The First Affiliated Hospital of Anhui Medical University is one of China's leading clinics for cochlear implants, and it is here that Dr. Jianxin Qiu has already fitted hundreds of devices manufactured by the Sonova brand Advanced Bionics. The two organizations work closely together, with four Advanced Bionics team members on site to consult with patients and advise the hospital.
Six-year-old Enhui Dai shakes hands with Dr. Jianxin Qiu before cheerfully answering all the physician's questions. Only the sound processor over the girl's right ear betrays the fact that Enhui wears a cochlear implant – she has been receiving regular follow-up care in the four years since Dr. Qiu fitted her with a device made by Sonova brand Advanced Bionics. 56-year-old Qiu, the highly respected doctor who runs the ear, nose and throat clinic at the First Affiliated Hospital of Anhui Medical University in the city of Hefei, is one of China's leading cochlear implant experts. Lina Yuan from the local Advanced Bionics team occasionally attends his consultations. Today, she has brought a stuffed toy dolphin that Enhui immediately clutches to her. She loves music and dancing and, once a week, joins other children with cochlear implants to sing in the "Little Dolphin Choir" founded by Advanced Bionics.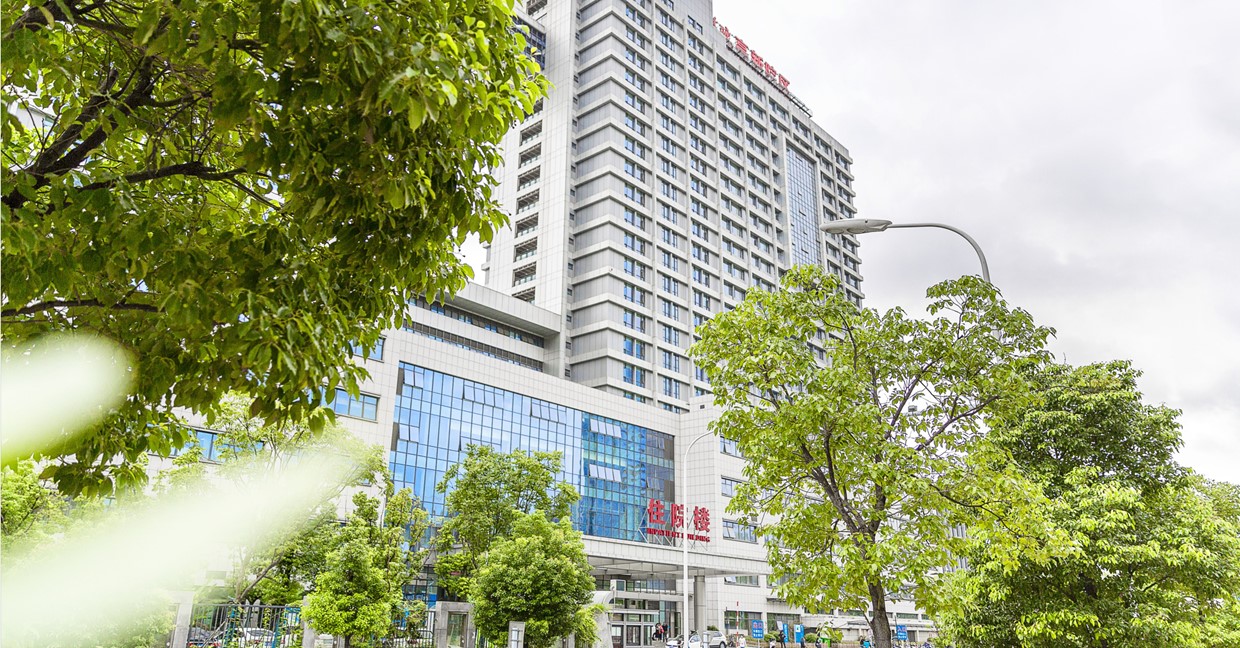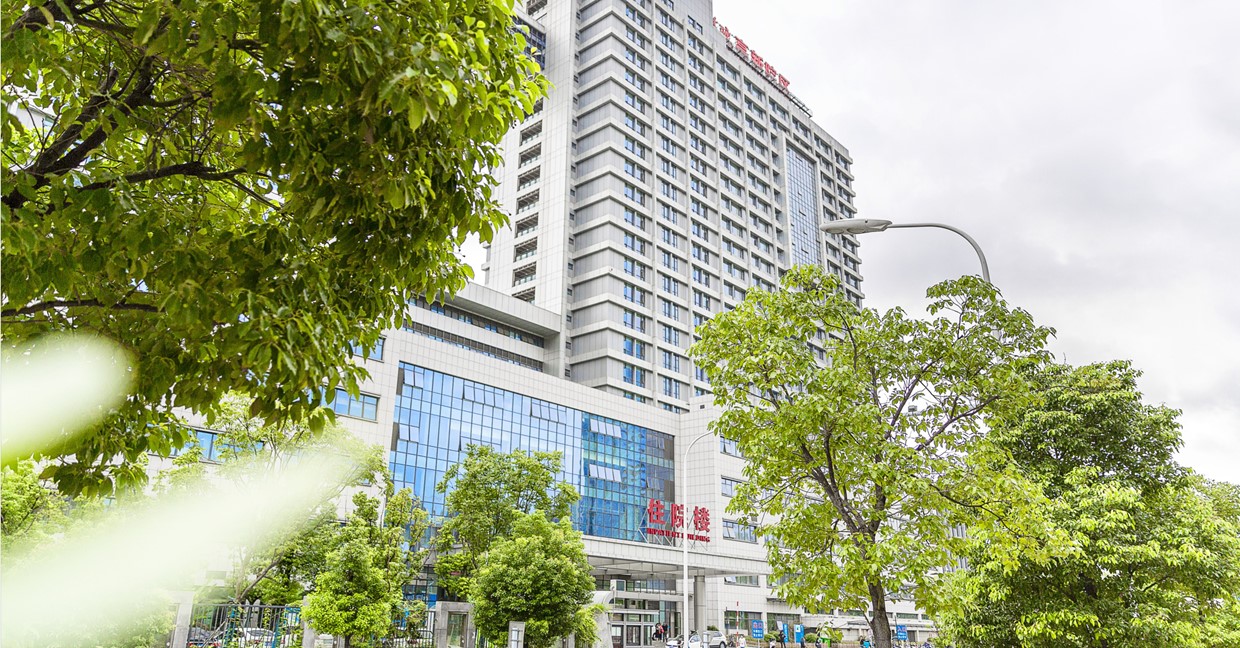 Anhui Medical University in Hefei, China
The well-being of cochlear implant recipients is of central importance to Advanced Bionics, as team member Lina Yuan explains: "We want to know how patients fare after the implants are fitted and we have set up two chat groups to find out. This allows hundreds of implant recipients to compare notes with one another and get in touch with us any time they have questions." For Dr. Qiu, the joy experienced by cochlear implant-wearers at their new lives full of sounds and previously unheard voices is a constant source of motivation for his work – especially in the case of children. "They are extremely grateful and are always dropping in to see us. I've watched so many grow up until they tower over me." Aftercare for recipients is just as important as the consultations in the run-up to surgery, says Lina Yuan, who holds clinics every day in the hospital. "I meet Dr. Qiu or advise patients who are waiting for their surgery."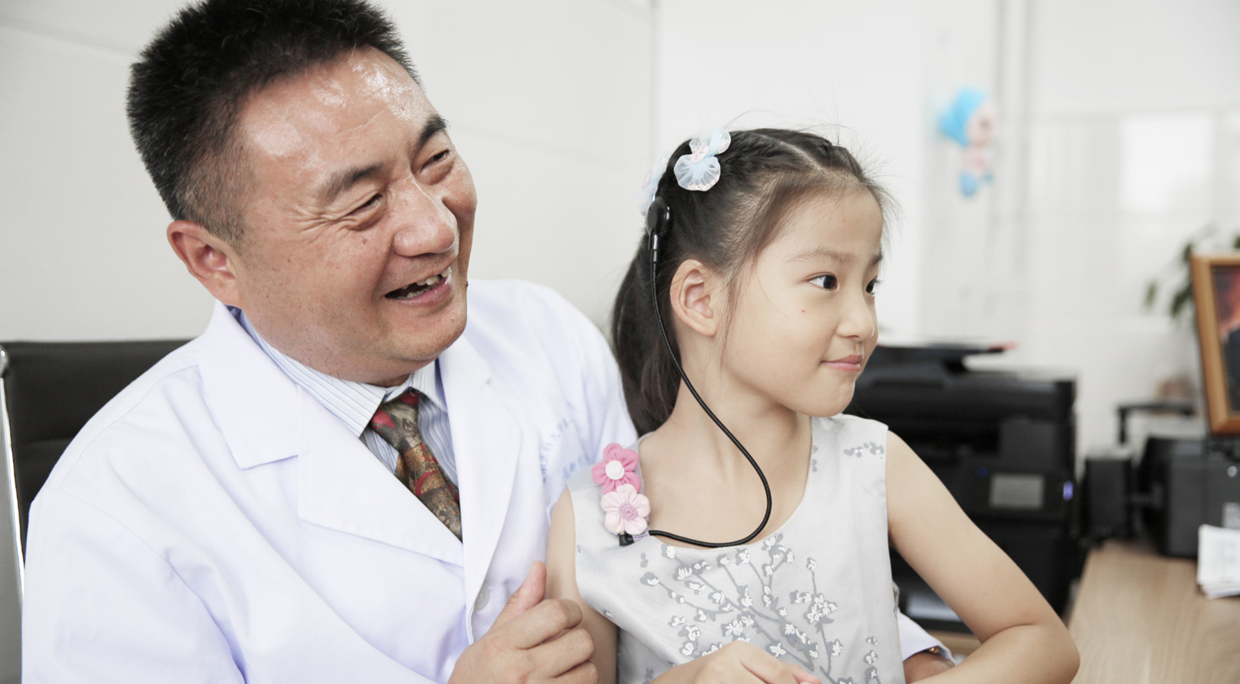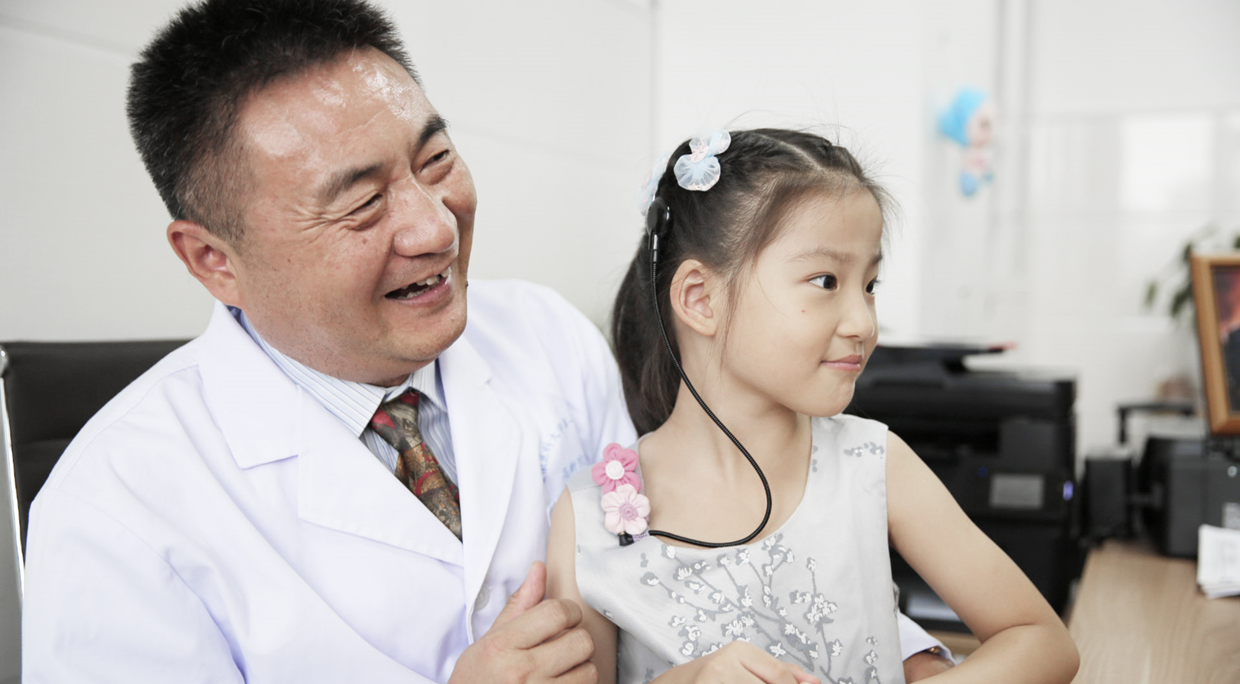 Enhui Dai with Dr. Jianxin Qiu
Dr. Qiu keeps in close touch with his patients and their parents. "At the time, Dr. Qiu told us that Enhui needs formal speech therapy," recalls Yongqing Dai, the little girl's father. He signed her up immediately and "she can now speak with complete ease". You can see how happy it makes him.
Cochlear implants are fitted in about 200 hospitals in China. Dr. Qiu has been an expert in this innovative technology since 2005 and has himself fitted more than 800 implants manufactured by Advanced Bionics alone. Little Enhui wears the waterproof Neptune sound processor. "My child is going to wear this product for her entire life, so we picked the brand Advanced Bionics for her," says her father.
"70% of cochlear implant recipients in China are children – something like 35,000 babies are born with hearing loss here every year," explains Fei Liu, Advanced Bionics' Country Director. Immediately after birth, every baby undergoes a hearing test that is provided free of charge to the parents. If this indicates potential hearing loss, it is followed up with a second test a few months later. "This is why hearing loss is identified in good time for a lot of children in China," says Fei Liu. Enhui's parents also found out early that their daughter would be needing a cochlear implant. "Initially, we felt helpless," remembers Yongqing Dai. "We didn't know a single child with such a problem." The family learnt how a cochlear implant works over a series of consultations with the Advanced Bionics team, and then opted for the surgery. Advanced Bionics is strongly in favor of this kind of informative consultation, and Yuan is on site at the hospital every day to dispense advice, consulting regularly with Dr. Qiu.
One such cochlear implant recipient who comprehensively researched the technology and the various service providers before his surgery is Wei Chen. Now 35, he was diagnosed with hearing loss ten years ago. He had worn hearing aids initially, but these had been unable to provide satisfactory levels of hearing. As soon as he found out about cochlear implants, Chen got up to speed. "I chose Advanced Bionics because the sound is especially clear and the system features the most functions," explains the qualified chef. His sound processor's transmitter , which is attached to his scalp using a magnet, is easily visible – Wei Chen confidently sports his implant with short-cropped hair.
Chen's implant was only activated two months ago, but he can already hold a normal conversation. "I had an interview only 18 days after activation and I got the job," he says proudly – he can still hardly believe it. He can hear every sound around him in the kitchen where he now works, and can tell them all apart. "Before, I always had the feeling that the others were talking about me." No wonder Wei Chen is happier and more relaxed these days. At home, he can understand his son much better, family conversations are not a problem and, if he feels like unwinding on his own, he listens to music.
In China, a lot of health insurers cover at least part of the costs for cochlear implants, as Fei Liu explains: "It's at least 70% in Anhui Province." As many Chinese citizens on low incomes have no health insurance, however, China's provincial governments are buying implants for the uninsured and distributing them to hospitals. Service providers such as Advanced Bionics can then bid for these public contracts.
"Advanced Bionics' market share has been constantly growing since it entered the marketplace in 2003," reports Liu with satisfaction, adding that she had worked very closely with Dr. Qiu from the outset. "When we first started fitting cochlear implants here, there were still no express trains and it took a little while to get to Anhui," remembers the doctor. "Even back then, Advanced Bionics were always prepared to support us by providing on-site staff."