Sonova's inspiration is a world where more and more people can enjoy the delight of hearing and therefore live a life without limitations.
Hearing is essential to fully enjoying and participating in life. Sonova thus remains committed to deliver, with market-leading innovation, ever better hearing performance and consumer experience to ever more people, through the industry's broadest portfolio of products, applications, and services.
Addressing the challenges of COVID-19
Restrictions necessary to slow the spread of the coronavirus have disrupted business and our ability to bring better hearing to more people since mid-March. Audiology stores – the primary consumer channel for hearing care products and services – have much reduced operating hours or are temporarily closed. Senior citizens, the largest segment of hearing care consumers, are a high-risk group for COVID-19 and have been asked to stay at home to protect their health. The Cochlear Implant business is also affected, because many countries are deferring non-essential surgeries.
These developments pose a challenge to the entire hearing care industry, and therefore also to Sonova, the market leader. As a global company, we regularly assess conditions in every market where we do business and react to change in a swift and effective way. The alignment of clear Group strategy with local initiative and know-how has enabled Sonova to adapt and improve in this fast-changing environment. These are useful qualities in a crisis – but also essential to the way we do business in more normal times.
The crisis has not changed the fundamental positives of the hearing care market. Hearing is a basic human need. Hearing care is an essential and expanding segment of health care. Innovation will provide ever better hearing performance from hearing instruments, and a broader range of solutions that enrich the lives of consumers. And Sonova is determined to sustain its position as the innovation leader.

We have taken the decisive short-term measures necessary to protect the health of our employees and customers, maintain our operations, reduce cost, and preserve working capital through this interim period. We are maintaining our planned increase in R&D investment, because we are confident that our market will rebound strongly and we are determined to be prepared for that. We are already seeing developments that will shape the future of our industry, including greater consumer acceptance of distance support tools and the potential for further consolidation in the retail hearing care market. Our strategy is calibrated, not merely for the challenges of today, but for the opportunities of tomorrow – and it is this primarily long-term strategy, with the steps we are taking to implement it, that we describe in this section of the Annual Report.
The Sonova Group
Sonova operates through three core businesses: Hearing Instruments, Audiological Care, and Cochlear Implants. The Hearing Instruments business develops, manufactures, and distributes the hearing aids and wireless communications devices that provide the exceptional hearing performance upon which all our businesses are founded. Audiological Care operates one of the world's largest networks of stores and clinics, supporting consumers with advanced services, a comprehensive product range, and deep audiological expertise. Cochlear Implants allow us to extend our offering to address severe forms of hearing loss that even the most powerful hearing aids cannot help. The three businesses work closely together, exchanging technology and talent – giving Sonova the depth and flexibility to capitalize on new opportunities.
Sonova has a uniquely integrated business model, offering solutions for every form of hearing loss, covering the whole value chain from product to consumer, and providing an omni-channel experience, where consumers have the full choice of where, when, and how they engage with the professionals who provide their hearing care.
Our consumers are increasingly from the baby-boomer generation: computer-literate, active, self-reliant people who demand continued improvement in hearing performance, a broad choice of channels to hearing care, and control of how their hearing instruments connect with the rest of their digital lives.
Our innovation framework addresses the needs of this growing consumer base by broadening the capabilities of our products: continuing to improve hearing performance while optimizing comfort and fit, then leveraging connectivity and the range of new applications that it enables – including, in the future, providing additional health-related functions, so that our products can serve as versatile tools for healthy, enjoyable living. Sonova's integrated range of solutions and services gives us detailed insight about consumer aspirations, which then inspires and informs our continuous cycle of innovation.
Our strategy drives us to seize opportunities at every phase of this cycle: leading innovation, extending consumer and market access, improving our processes, and optimizing our corporate structure.
The Marvel technology platform shows this strategy in action. Having now sold over two million units just 16 months since being introduced in November 2018, Marvel is the most successful product launch in our history. Consumers have responded enthusiastically to its rich, detailed sound experience, both in conversation and music, and to its ease of fitting and use, true to the slogan "Love at First Sound." Now available across Phonak's entire hearing aid range, Marvel has delivered exceptional sales for both our Hearing Instruments and Audiological Care businesses, and its technology promises great future benefits for our cochlear implant users. And we continued to improve it, delivering important new functionality in 2019 that adds value for both new and existing consumers.
To operate with the agility that our customers demand and offer the working environment that our employees deserve, we need a shared culture: uniform values that define how we work anywhere in the world. This year we completed a broad-based internal effort, including focus groups and the HearMe employee survey, synthesizing the five core values that guide all we do:
We see these values as combining clear statements of the principles by which we have always worked in the past with the aspirations we all share for a transformative future.
Key areas of activity
Innovation
Building on Phonak's innovative Marvel platform, we made it available across our entire hearing instrument product range, bringing Marvel's excellent audiological performance, universal Bluetooth® connectivity, and rechargeability to all the consumer groups we serve.
We also upgraded the platform with Marvel 2.0, adding important new capabilities like dual Bluetooth® connection and integrated Roger™ wireless communication. The myPhonak app, launched this year, provides a digital environment where users can take even more control, both of their hearing aids and of the support they receive. The consumer response has been overwhelmingly positive with over half a million downloads since the launch of the Marvel platform.
To complement our strong R&D hubs in Stäfa and around the world, we announced in November 2019 the opening of the Sonova Innovation Lab in Waterloo, Ontario, Canada, where we will explore new digital capabilities in one of the leading consumer app development centers in North America, bringing together experts from our various specialties with people from the mobile industry to accelerate our app development.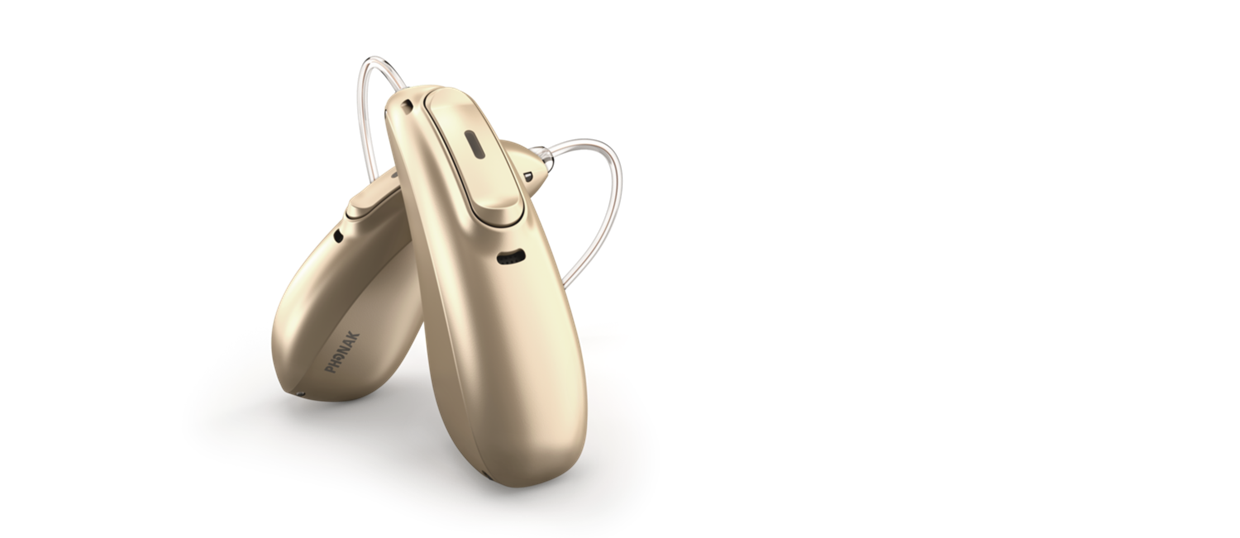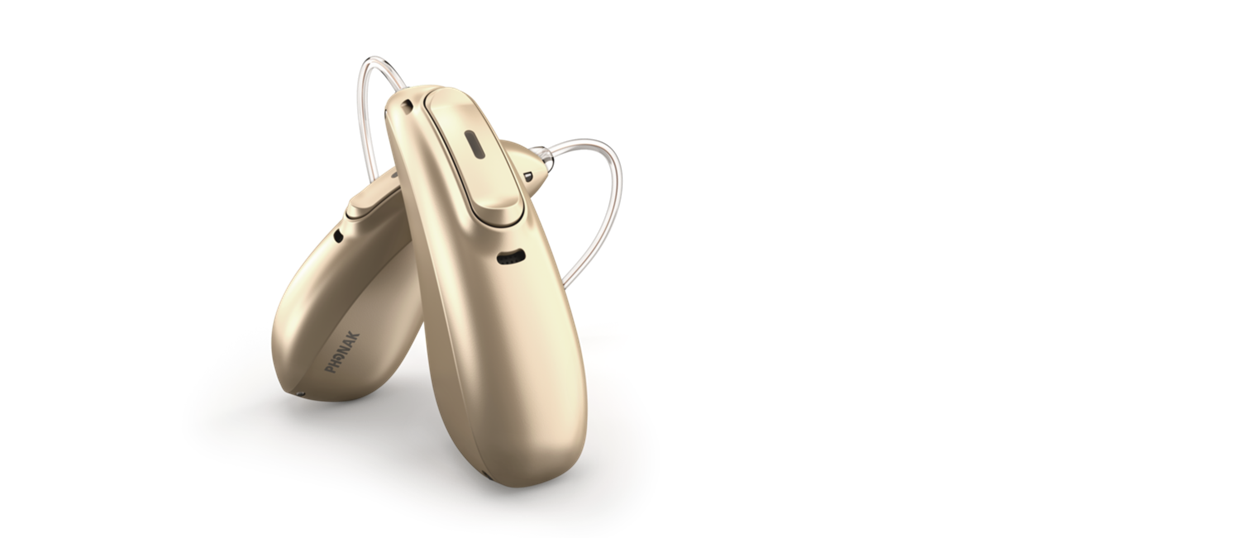 Phonak Audéo M-R hearing aids based on Marvel 2.0 platform
Market and consumer access
Commercial excellence is a vital component of our strategy. We are committed to being as innovative and efficient in how we market and sell our products as we are in designing and making them. This year, we launched a strategic initiative to systematize how we identify and classify customers, how we help them through the sales process, and how we support our salesforce with the right marketing tools at every step. It is being rolled out, along with an expansion of our salesforce, in the UK, Germany, France, and the US.
We continue to pursue a focused M&A strategy, complementing our network's bolt-on acquisitions through additional openings of greenfield shops. This ensures that our geographical profile fits well with our target market. It also fits with our commitment to train more audiologists, both for our own network and for the industry as a whole. In high-growth markets, which are often more internet-accepting than developed markets, our omni-channel strategy will allow us to make best use of our available talent even in the absence of a large physical shop network.
Improvement and optimization

Sonova has made many strides this year in the multi-year journey to implement our continuous improvement and structural optimization program. We have begun with our manufacturing operations and now have dedicated continuous improvement resources and infrastructure in place at every major site. We involve all our employees in the quest to continuously improve our processes.
We are fostering commercial excellence by extending process-focused improvements to the sales process, and are taking active steps toward structural improvement, optimizing our global footprint to eliminate duplication.
The aim of these programs is to free up resources that can be reinvested in the growth and improved returns of the Group. Every function has a role to play in this and every part of the business will benefit.
Dieser Abschnitt ist nur in englischer Sprache verfügbar.