Strategy and businesses
Hearing Instruments business
We continuously innovate to deliver the best possible hearing performance, connectivity, and convenience with complete accessibility, across a broad spectrum of consumer needs and markets.
The natural place for a Sonova hearing aid is at the center of a full and active life, one without limitations. Consumers expect ever better hearing performance, seamless connection with their digital lives, convenient, stylish designs, and professional hearing care support through a range of channels. We respond to and anticipate their expectations, continuously improving the performance and capabilities of our products, services, and business.
On the product side, Phonak's Marvel platform is the perfect example of how we work to fulfil our consumer's needs. They value audiological performance: recent studies rate Marvel highest in overall sound quality1. They value connectivity: Marvel is rated the best and easiest connectivity solution2 – the only hearing aid offering hands-free calling on iOS™ and Android™ cellphones. They value convenience: Marvel rates highest in first fit acceptance among first time wearers3. It is not surprising that 95% of hearing care professionals would recommend Marvel hearing aids to their peers4.
Marvel has sold more than two million units in just 16 months after its launch. It is the most successful product in the history of our business. It was planned from the outset as a no-compromise hearing solution, where each benefit is optimized without limiting the others.
Continuous innovation, however, means that there is always a way to improve, and so we have launched further upgrades to Marvel this year, now allowing it to pair two Bluetooth® audio devices at the same time and adding powerful new capability with invisibly and seamlessly integrated RogerDirect™ wireless communication. As we continue to add new applications and functions, we bring our products ever closer to the goal of being a healthy living companion.
Just as we are working to accelerate and enrich the innovation cycle with upgrades between major platform launches, we have introduced initiatives to further leverage all marketing tools at our disposal and extend and deepen our customer reach through what we call "commercial excellence." This supports our product innovation through targeted growth investments to refine sales and marketing excellence, while also boosting coverage in high-potential markets.
Sonova's Hearing Instruments business operates through four brands. Phonak, which is available worldwide through all of Sonova's sales channels including our own Audiological Care business, is committed to delivering industry-leading technology and hearing performance, backed by an ever richer consumer experience. Unitron helps hearing care professionals build their businesses with its unique Flex trial and upgrade solutions. Hansaton operates as an exclusive regional brand, including through retailers in high-growth markets, while AudioNova is the recently launched exclusive brand for our Audiological Care business.
Jansen, S. & Woodward, J. (2018). Love at first sound: the new Phonak precalculation. Phonak Insight. Retrieved from https://www.phonakpro.com/com/en/resources/information-forms/evidence/Library.html, accessed August 28, 2019

Knorr, H. & Ritter N. (2019) Market Research ID1359. n=203 HCPs in USA.

Rakita, L. & Steward, E. (2018). Best first fit experience from Phonak. Phonak Marvel. Phonak Field Study News. Retrieved from https://www.phonakpro.com/com/en/resources/information-forms/evidence/Library.html, accessed August 28, 2019

Phonak market survey #1241 "Marvel Post Launch Research B2B," survey conducted in Canada, Germany, USA, January 2019 (215 participants).
Key areas of activity
Innovation
We called this year's upgrade to the Marvel platform "Marvel 2.0," because it is the equivalent of a new operating system for a computer: the device remains the same, but the capabilities are significantly improved. One of the most important innovations was RogerDirect™, which allows wireless streaming of sound from a remote microphone directly to the hearing aid without any additional accessory. Roger® technology bridges the understanding gap in loud noise and over distance, giving users a better hearing experience than people without any hearing loss in these challenging situations.
To complement RogerDirect™, we launched the Phonak Sky™ M range of hearing aids for children. These offer Marvel's exceptional hearing performance for optimal speech intelligibility and language development, along with the first operating system designed specifically for children. Fully integrated and invisible RogerDirect™ allows wearers to participate fully in conversations, even in very noisy school environments, without the potential stigma of a bulky hearing aid, while universal Bluetooth® connectivity allows them full use of phones and classroom tablets.
Connectivity adds a digital ecosystem to each Marvel hearing aid. A key example of this is the updated myPhonak app, which gives wearers an enhanced and personalized hearing experience, including remote support, fitting and control, a hearing diary, and advanced customization options such as noise reduction and speech focus. More than half a million Marvel users have downloaded our myPhonak app. Many are finding it an invaluable tool during the COVID-19 pandemic, ensuring continued contact with their hearing care providers during times of enforced social distancing.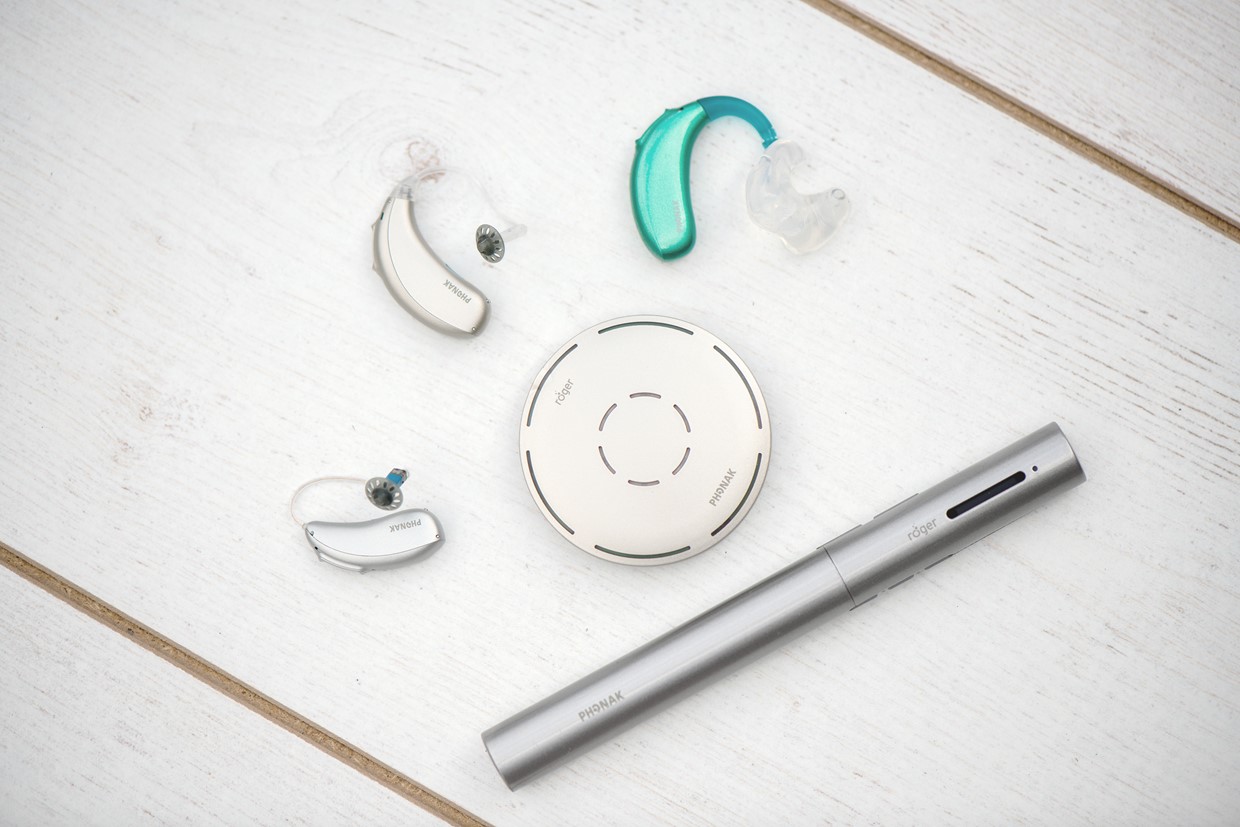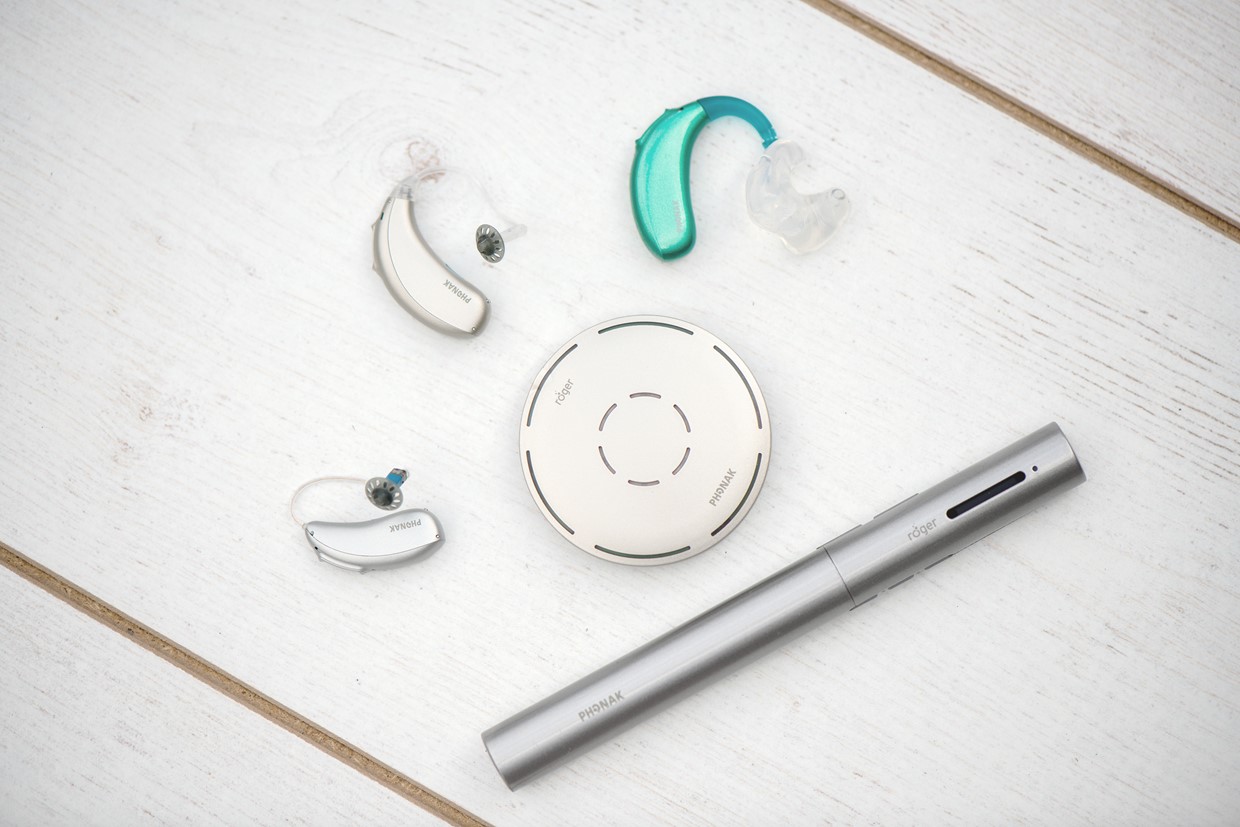 With Marvel 2.0, Phonak is making RogerDirect™ available to all Marvel hearing aids
Market and consumer access
As part of our commercial excellence initiatives, we have been investing in internal capabilities and systems to support our marketing and sales functions. We have expanded our sales force in key markets, putting more "feet on the street" and backing them with the marketing tools and coaching that they need to generate and convert sales leads. In the US, we have seen significant sales successes, doubling our market share with the Department of Veterans Affairs (VA) and gaining a significant contract with a large hearing aid retailer that also offers access to a younger, earlier-adopting market segment.
Sales and marketing excellence is strengthened by our multi-channel approach to consumer support – and by our agility in adapting it to new circumstances. The US Department of Veterans Affairs (VA), for instance, has been faced with a major challenge by the COVID-19 pandemic: although it has not shut down its hearing care clinics, only 20% of the veterans it serves have been able to attend because of social distancing concerns. The VA is therefore adopting Phonak's own online educational materials and remote support apps to strengthen their remote outreach to the veterans they serve. Phonak is also pre-programming hearing aids to reduce the number of in-person visits. The challenge of this medical crisis has become an opportunity to accelerate new ways of serving our customers.
Improvement and optimization
Process improvement is now a daily activity across the Hearing Instruments business: in R&D, manufacturing, distribution, and sales, we examine what we do and take the steps, large or small, that are necessary to shorten cycle times, reduce goods on hand, cut waste, and improve margins. All our employees have an active role to play, and we draw on their experience during regular intensive problem-solving sessions.

At the same time, we continue to examine ways in which we can make our corporate structure more efficient and reduce our organizational overheads. This year, we shifted certain service and manufacturing activities from our UK service center to the regional center in Spain and to the operation center in Vietnam, both for greater efficiency and to forestall potential risk of disruption due to the UK's departure from the European Union. We have integrated support services for all our hearing aid brands in Germany at a single center in Fellbach and service and repair activities in Canada at Mississauga. We are also initiating the integration of all US back-office functions in our Hearing Instruments segment to a single site. The end goal of each of these initiatives is to increase agility while generating funds for increased investments in growth- and revenue-producing activities.
Dieser Abschnitt ist nur in englischer Sprache verfügbar.