Dieser Abschnitt ist nur in englischer Sprache verfügbar.
Strategy and businesses
Hearing Instruments business
We excel in an evolving marketplace through seamless delivery of services to our customers and innovation inspired by consumer needs.
Our Hearing Instruments business is a leading global developer and manufacturer of hearing aids marketed through our well-known Phonak and Unitron brands. We sustain continuous innovation through regularly-launched new technology platforms that support significant performance improvements across our broad product spectrum and through a wide range of distribution channels. Our emphasis is on providing the hearing performance that consumers demand: a clear, rich sound experience and speech understanding even in the most challenging environments. Our recent innovations in connectivity, digital applications, and sensor technology give us the opportunity to deliver fundamental improvements along each consumer's hearing journey and contribute to their overall health and well-being.
The Hearing Instruments strategy for market leadership builds on strong fundamental capabilities: our emphasis on hearing experience and ease-of-use, combined with ever closer consumer engagement, delivers an excellent consumer experience. Our long-standing and close relationships with hearing care professionals across the globe, supported by the breadth and quality of our product portfolio and value-creating services, help us to become the partner of choice for audiologists. Our commitment to audiological research, supported by focused investments in leading-edge areas such as chip technology, miniaturization, and artificial intelligence, gives us the innovation advantage to grow into the future while advancing hearing health and medical benefits. Our expertise in reaching the market through a broad range of precisely segmented and targeted channels provides a sustainable basis to expand the market and our market share.
Consumer-centered innovation
Hearing Instruments innovation is inspired directly by consumer needs: we evaluate each potential advancement by testing how it will directly improve the consumer's experience. Will it enhance hearing performance, increase speech understanding and reduce noise, like our AutoSense OS™ 5.0 technologies? Will it boost ease-of-use, like our Made for All™ connectivity solutions or our integrated app ecosystem? Or will it smooth the consumer's seamless buying journey, like our try-before-you-buy program, omnichannel purchase options, or 24/7 remote support services?
These market-leading innovations are brought together and further enhanced by Phonak's ground-breaking Lumity platform, launched in August 2022. Building on the highly successful Marvel and Paradise platforms, Lumity sets new standards in ease of communication and reduced listening effort 1,2,3,4).Consumer studies reveal how important speech understanding is to them, especially in noisy environments. Being able to understand speech without effort – even when the speaker is beside, behind, or across the room from the wearer 5)– is essential for the experience of fully immersive, natural conversation in real-life situations.
STRATEGY AND BUSINESSES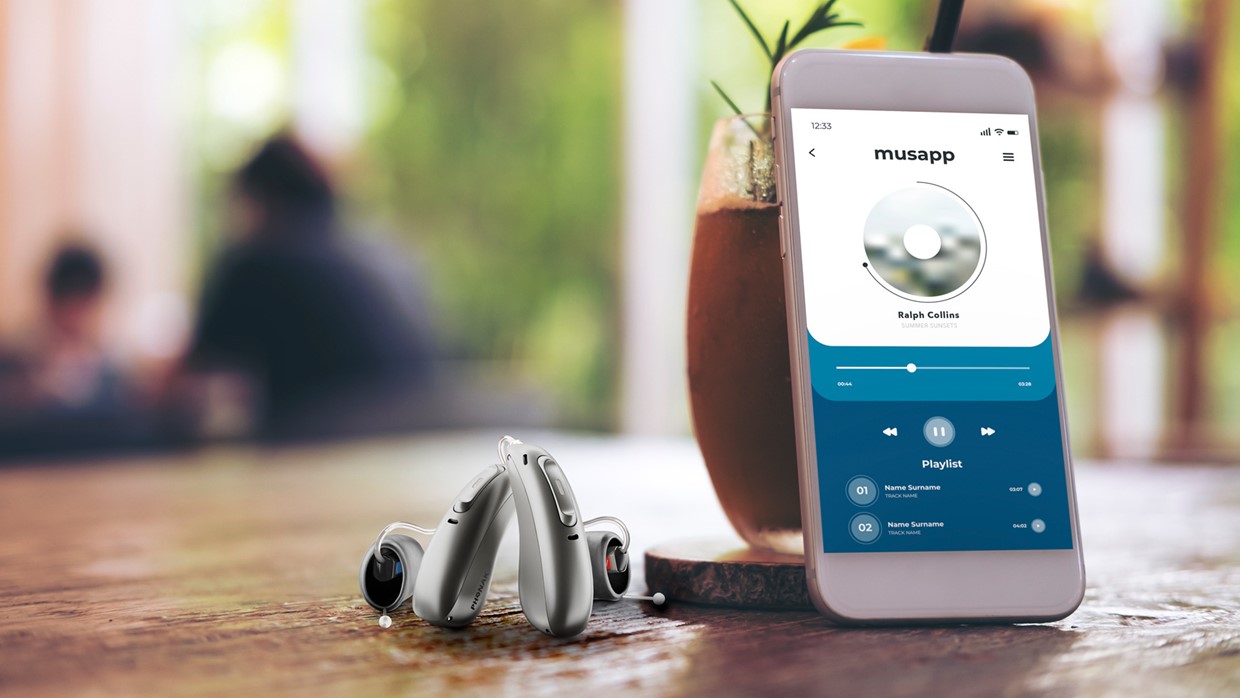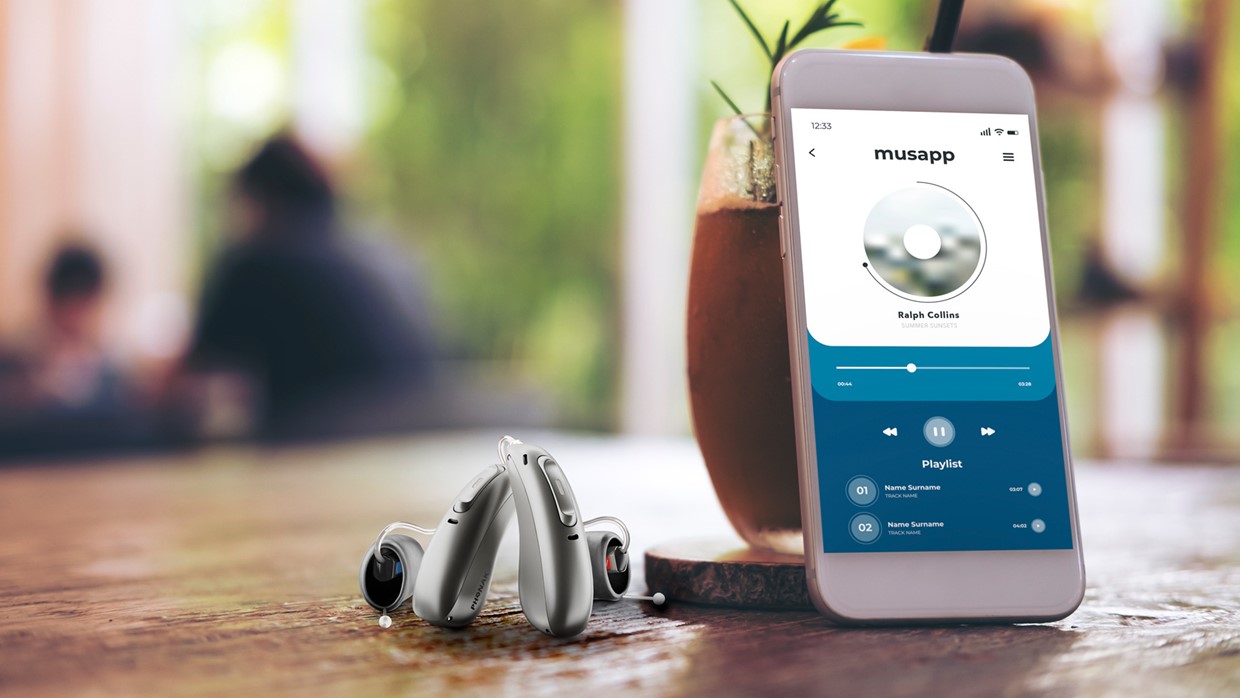 To achieve this, Lumity opens a new dimension in directional microphone technology: the sophisticated StereoZoom 2.0 beam former assures a continually adapting, smooth, and unobtrusive focus on each conversation partner, while the new SpeechSensor capability provides 360-degree speech detection. The result is 16% better speech understanding from the front 6)and an average of 15% better speech intelligibility from the back and side 7). Beyond these, the SpeechEnhancer feature makes it easier to communicate with someone across a room. Like the other aspects of Phonak's SmartSpeech™ technology, these capabilities are fully adjustable by the consumer through the myPhonak app. All in all, Lumity offers a solution for every challenging communication environment in daily life.
Lumity has launched successfully in over 40 countries, and is initially available in the Audéo rechargeable RIC form factor – including Audéo Lumity Life, the second generation of the world's first rechargeable and waterproof hearing aid, which enables a healthy, active lifestyle without limitations. New charger case designs combine reliable recharging with versatility, including inductive charging. All Lumity hearing aids include our unique universal Bluetooth® connectivity with multiple connections, hands-free calling, and Tap Control for easy control of streaming functions, and now add the ability to monitor well-being data such as activity levels and step count. Over the next two years, we will extend these capabilities across our whole range of hearing aids, with new features added to the platform throughout our regular innovation cycle.
This year has been one of macroeconomic challenge in countries around the world, increasing input costs for manufacturers and reducing household spending. Despite this, we achieved a successful launch for Lumity through a disciplined approach to commercial excellence with a particular emphasis on value capture to offset some of these headwinds. Important launch metrics for Lumity such as penetration and repurchase rates are on track to match the outstanding performance of its predecessors.
Sonova is very active in researching hearing care in the broader context of healthy living. We regularly collaborate with prominent independent research institutions and universities on clinical studies investigating the relationship of hearing loss to other health problems such as cognitive decline, balance, and reduced physical activity. Several studies on the possible impact of hearing aids in slowing cognitive decline are expected to be published during 2023. We also support studies that investigate the impact of hearing aids on social interaction and networks, as well as on physical activity and overall health. As a market leader, we welcome the opportunity to help advance the science of hearing health and medical solutions: the knowledge gained helps to drive our innovation, deepen our consumer understanding, and expand our commercial horizons.
Striving for excellence in the customer experience
Originating with the Phonak brand, our Hearing Instruments business has worked to deliver an excellent experience to its wholesale customers for more than 75 years: providing continuous innovation and market-leading hearing performance across a broad solutions portfolio backed by services, software, and trusted relationships in more than 100 countries. We understand how customer needs differ across our various markets, which include independent audiological practices, ENTs, managed care providers, government agencies, retail chains, and buying groups. An end-to-end integrated sales and marketing process, backed by our proprietary segmentation and sales channel alignment initiative, allows us to approach each customer through the appropriate channel with the right value proposition, enabling us to win over competitive accounts. We support our customers with bespoke marketing and training, along with a range of hardware and software solutions, including remote fitting, that speed audiology workflow and add value for their consumers.
The Sonova X business system, now rolled out in 80% of our key markets, gives us a powerful range of tools to enhance customer satisfaction and profitable growth; these have led to marked improvement in key metrics over the past three years, including a 40% rise in sales productivity. It has also given us methodologies to capture the value of the outstanding proposition that we make to our market through higher prices: in a year of inflationary challenges, we have taken the lead with a lifecycle pricing strategy that also gives our customers the support they need to secure the appropriate return for the premium solutions they provide.
Appleton, J. (2020) AutoSense OS 4.0 – significantly less listening effort and preferred for speech intelligibility. Phonak Field Study News retrieved from www.phonakpro.com/evidence, accessed February, 2022.

Latzel, M & Hobi, S (2022) ActiveVent™ Receiver provides benefit of open and closed acoustics for better speech understanding in noise and naturalness of own voice perception. Phonak Field Study News retrieved from www.phonakpro.com/evidence, accessed May 2022.

Thibodeau L. M. (2020) Benefits in Speech Recognition in Noise with Remote Wireless Microphones in Group Settings. Journal of the American Academy of Audiology, 31(6), 404–411.

Latzel, M., Lesimple, C. & Woodward, J. (2022). New implementation of directional beamforming configurations show improved speech understanding and reduced listening effort. Phonak Field Study News retrieved from www.phonak.com/evidence.

Latzel, M., Lesimple, C., & Woodward, J. (2023). Speech Enhancer significantly reduces listening effort and increases intelligibility for speech from a distance. Phonak Field Study News. retrieved from www.phonak.com/evidence.

Compared to fixed directional.

Compared to conventional acoustic coupling.