We foster a world in which there is a solution to every hearing loss and all people equally enjoy the delight of hearing.
Hearing loss should never mean losing connection – to the voices of loved ones, a favorite melody, birdsong, the crash of waves. At Sonova, we know how vital hearing is to happy and healthy living. That is why we have set ourselves the mission to bring ever better hearing performance to ever more people through continuous innovation in our products, applications, services, and sales.
The Sonova Group
The Sonova Group fulfils its mission through its three core businesses: Hearing Instruments, Audiological Care, and Cochlear Implants. Hearing Instruments delivers market leading audiological performance and consumer experience through innovative technology platforms that support a full range of hearing aids and wireless communications devices. Audiological Care meets the hearing needs of consumers directly with expert services and advanced solutions provided through an omni-channel approach, leveraging its retail network and online presence. Cochlear Implants serves those people whose hearing loss is beyond the point where hearing aids can help, offering them the combined benefits of Sonova audiological performance and cochlear implant expertise. The three businesses together form a closely integrated structure, with extensive cross-collaboration and sharing of talent, technology, and market insights.
Our business model is similarly integrated: we offer the broadest range of products and solutions to address every type of hearing loss. We take a multi-channel approach to the market, aiming to give customers and consumers complete choice about the way they interact with us. We operate actively in every phase of our industry, from initial research to post-sales service. We drive the cycle of innovation, drawing on our understanding of consumer needs to regularly launch technology platforms that bring life-enhancing new capabilities and measurably improved hearing performance to our entire product range.

Our proven strategy
Our strategy remains unchanged from previous years, despite the worldwide impact of the COVID-19 pandemic. Indeed, the experience of this year has demonstrated the strategy's validity and resilience. Having rapidly taken the essential steps to assure the health and safety of our employees, customers, and consumers, and having put in place cost-structure and liquidity measures to secure our financial flexibility, we were able to drive the sales rebound by increasing the number and intensity of customer contacts, launching new technology platforms, investing further in product development, and accelerating our lead generation activity. As a result, we were well placed to participate in the market's faster-than-anticipated recovery. By continuing to lead innovation, extend consumer and market access, improve our processes, and invest in growth, we have sustained the agility we need to thrive in good times and to weather the challenges that come along the way.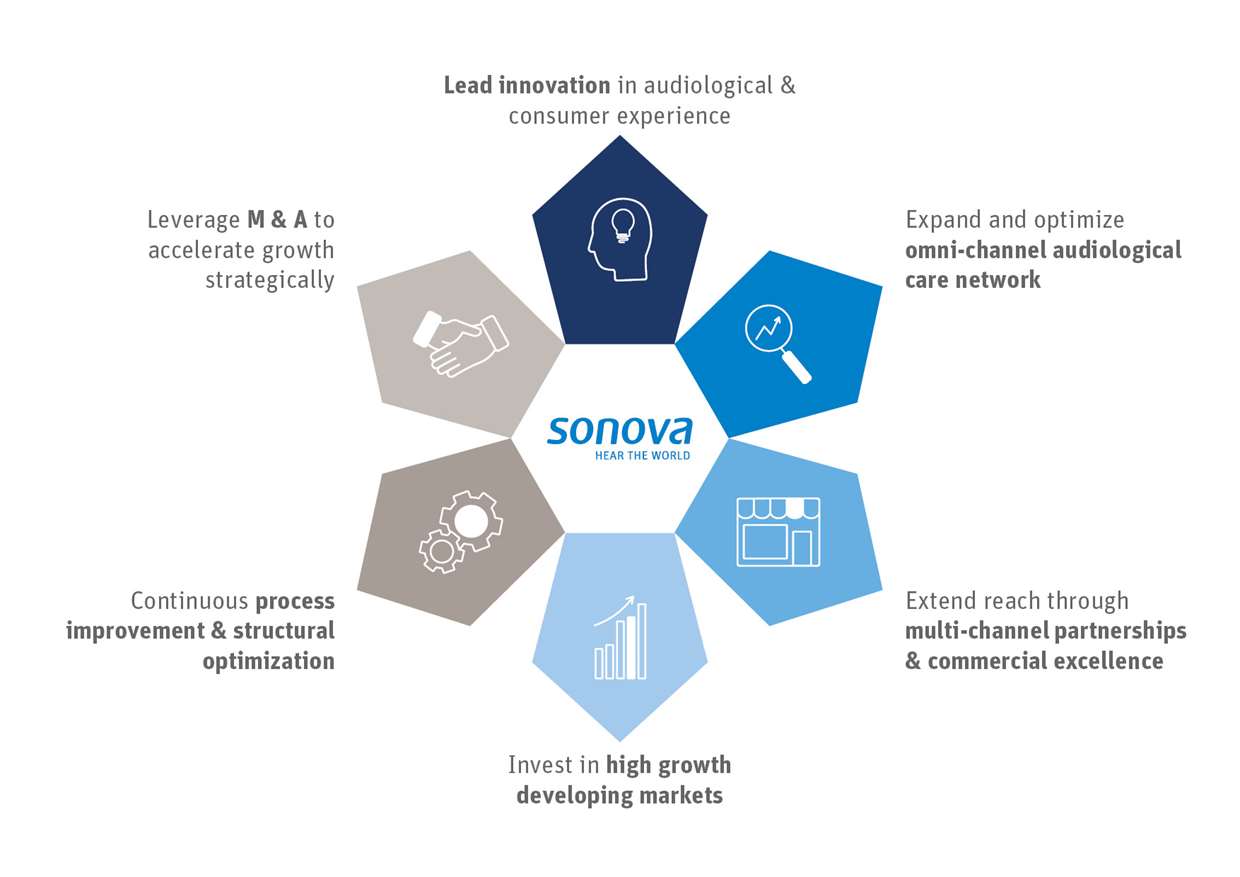 Driving innovation
In our innovation framework, as in all our processes, we aim to achieve significant measurable improvement in clearly defined benchmarks: hearing performance, comfort and fit, digital apps and connectivity, and emerging new functionalities. Taken together, these capabilities make our product much more than just a hearing aid – it becomes a multi-functional device that supports healthy living. The products and solutions launched across our businesses and brands during the past financial year represent further important steps in this direction, with sophisticated enhancements to the hearing experience, increased ease-of-use and connectivity, new supporting apps, and the addition of a motion sensor, enabling new modes of functionality.
New milestones in ESG
Sonova has long been committed to continuous improvement in its environmental, social, and governance responsibilities. "We take accountability" is one of our core values, and we aim to further embed our ESG commitments across all dimensions of the business and to track and optimize our ESG performance with the same intensity as we do our key financial indicators. We are proud that we are highly ranked in major ratings agencies' sustainability indices, both as a recognition of our efforts an assurance to investors that we are making good progress.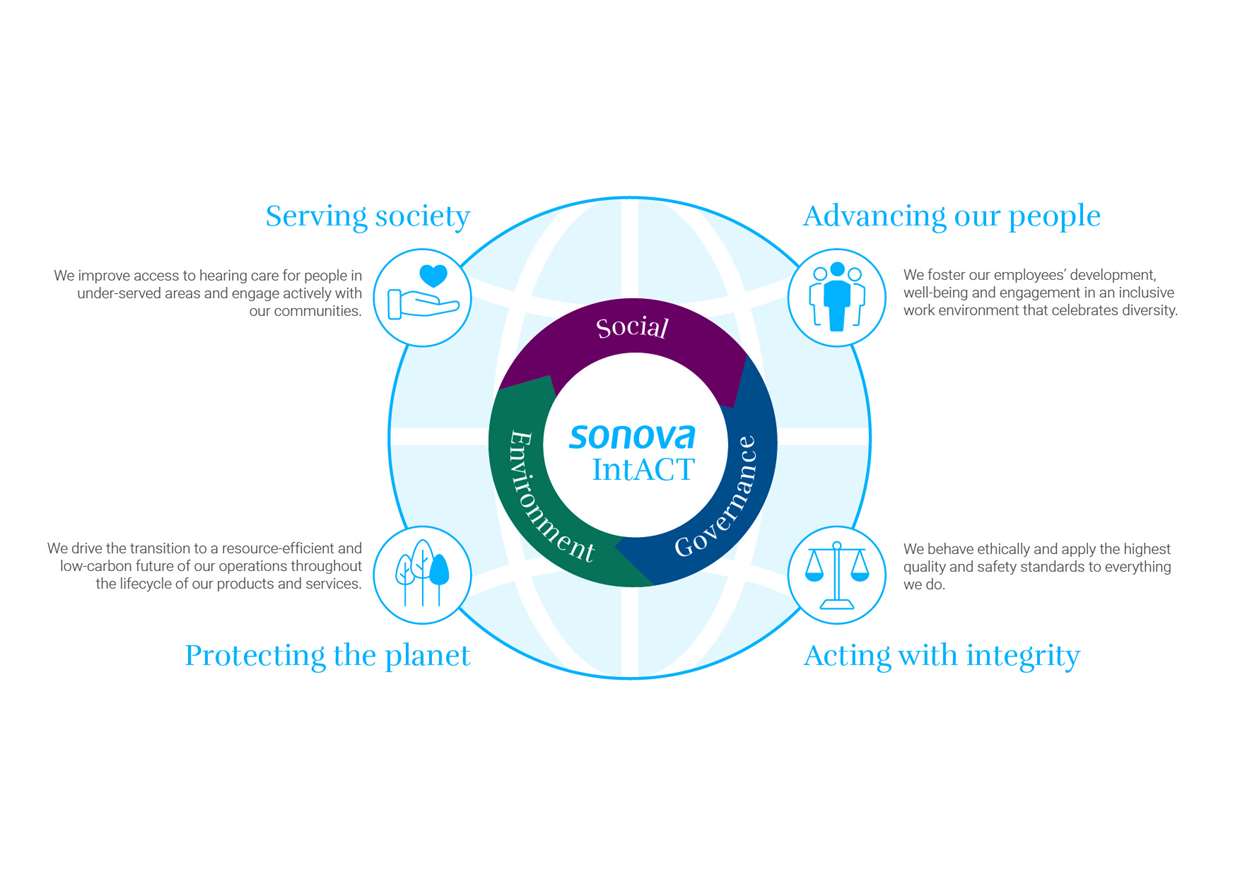 This year, we have introduced a range of new, measurable ESG targets with firm dates for achievement. Among those in the environmental area, we aim to achieve carbon-neutral operations by the end of 2021 and to align our reduction targets with the effort to keep global warming below 1.5°C, as advocated by the Science Based Targets initiative (SBTi). In the social area, our new commitments include a goal of 40% of key positions held by women by 2025. In governance, we are extending and intensifying our long-established system of ESG risk assessments and audits of our suppliers, and establishing a strong digital ethics and cybersecurity function.
You can read the full account of our performance for the year in the Corporate Responsibility report.
Strategic focus areas
Products and solution innovation
Two years ago, we introduced Phonak's groundbreaking Marvel platform: the result was two years of clear market leadership, with an industry-record number of instruments sold and every form factor marking significant sales growth over its predecessor. Even in 2020, Marvel remained the top-ranked hearing aid among hearing care professionals.
This year, we took Marvel to the next level with the launch of Phonak Audéo Paradise, which combines an entirely new sound processing chip with a motion sensor and allows for multiple simultaneous Bluetooth® connections. Paradise provides unrivaled sound quality, with adaptive speech enhancement, dynamic noise cancellation, and motion sensor hearing, which self-adjusts for conversations on-the-go. Multiple connectivity provides even greater ease-of-use and access to a wide range of digital apps and services, controllable by a tap of the finger on the ear. The motion sensor does not just contribute to hearing performance and easy handling: it opens up a path to add further capabilities and benefits through sensor technology in the future.
In 2021, our Cochlear Implants business launched two breakthrough sound processors founded on Marvel's leading technology and market reputation: the Naída™ CI Marvel for adults, and the Sky CI™ Marvel: the world's first dedicated sound processor specifically designed for children. The benefits that these bring to recipients – self-adjusting sound programs, hands-free calling, direct no-hassle enjoyment of music and television, and compact wireless communication, all without the need for additional connection devices – can transform lives, and are currently unique to our cochlear implant solutions. Marvel technology is now also available to "bimodal" recipients, who have a sound processor on one ear and a hearing aid on the other, thereby providing state-of-the art solutions for all cochlear implant wearers.
The powerful market performance of these advanced technologies, along with the continuously increasing customer satisfaction and penetration that Sonova has seen over the past decade, suggest that an excellent hearing experience still remains vital to consumers, and that there are ample opportunities to further advance through even better performance and additional functionalities. We know that we are far from having achieved our solutions' full potential – and therefore from any "commoditization" in our business.
Market and consumer access
An omni-channel strategy gives us a flexible and agile method of approaching consumers who have different preferences about where and how they want to engage with us and our hearing solutions, by providing our sales people with multiple points of contact and influence. Success in this strategy relies on having access to a broad set of sales and lead generation channels, paired with a systematic, process-driven approach to define and track the indicators that mark new opportunities.
We have applied this approach in our Audiological Care business, not just in its day-to-day operations, but also in opening up new markets. This year, we established a presence in China (where over 90 million people are affected by hearing loss) through partnerships with Tencent and its WeChat app, the largest social media platform in China, and Alibaba Health, part of the world's largest eCommerce platform. These are backed by agreements with two major retail networks to provide fitting services, which give consumers the choice of an all-online or partially in-store experience. This is just the first step in our omni-channel approach to the Chinese market, but it has already brought success: within three months of launch, we were China's leading hearing aid manufacturer in terms of online share. We have taken the same systematic approach to eCommerce, acquiring or launching new eShops in a targeted way to gain new consumers, enter new markets, or extend existing consumer connections.

Across Sonova, we have increased our focus on systematic lead generation, gaining in-house consumer understanding at the early pre-sales stage. This benefits not just our Audiological Care business, but all our sales activities, as it allows us to establish strong direct-to-consumer connections that can extend throughout their hearing journey.
Improvement and optimization

The process improvement and structural optimization programs that we announced over the past two years are well on track – indeed, we accelerated them during the period when the COVID pandemic focused our attention on cost. We have already seen a positive effect on profitability – while continuing to invest in our growth initiatives – and we expect them to generate an attractive ROI. Sonova will emerge from the pandemic in a much stronger position.
Cost savings and efficiency are less than half the story, however. By far the most important improvements we can make are those that generate growth, both during the post-COVID market rebound and beyond. We see this with the commercial excellence initiative in our Hearing Instruments business: through a systematic approach to territory design, market segmentation, and targeting, we are able to reduce non-value-adding tasks. This increased productive use of time and enabled us to allocate resources to more competitive accounts with higher growth potential, thereby raising sales productivity by 20%, with an equivalent sales growth in the targeted areas. These improvements are not one-off cost savings, but a source of yearly contributions to the bottom line.

Elsewhere in Sonova, our regular "Kaizen" cooperative operational improvement events – more than 100 this year in production functions alone, with over 50 in other functions – continue to generate substantial productivity improvements. Our labor productivity has risen by over 10% in the last 12 months; our working capital position has improved significantly over two years – and all during a period when the business has grown and increased its market share.