Strategy and businesses
Hearing Instruments business
A driving force in hearing care, we measure success by the positive impact our solutions have on the ability of consumers to communicate and enjoy life.
The world of sound is rich, complex, and ever-changing. At Sonova, we strive to give people with hearing loss the most natural possible hearing experience: clear, comprehensible, joyous and individual – with effortless connection and communication.
Through its Phonak and Unitron brands, Sonova's Hearing Instruments business meets this challenge through consistent technology leadership in the areas that make the greatest difference to the consumer's experience. Our products do not simply provide excellent audiological performance, they are also multi-functional instruments that link the consumer with essential devices, support, and services to simplify and enrich life. Our goal is ever-closer contact with consumers and with the hearing care professionals who serve them, using our products to deepen our understanding of their needs and, through our industry-leading wireless connectivity capabilities, to deliver tailored digital solutions "straight to the ear."

Paradise: a new paradigm
Phonak's market leading Marvel platform, launched two years ago, set entirely new standards with its unmatched sound quality, connectivity with billions of Bluetooth®-enabled devices, and top-rated first-fit acceptance. This year, Phonak has surpassed the breakthrough Marvel platform with the launch of Phonak Audéo Paradise, which combines an entirely new sound processing chip with a motion sensor to further improve hearing and allows for multiple simultaneous Bluetooth® connections.
Paradise adds extra dimensions to the hearing experience. Excellent hearing performance, whether in background noise, on the go, or listening to soft speech, is essential for the consumer and significantly advanced with Paradise. Comfort and ease of use are integral to the design. Connectivity opens up new possibilities for social and digital engagement. With the new motion sensor, the hearing program recognizes movement and optimizes speech recognition. Moreover, users can activate voice assistants, answer or reject calls, or even pause or resume audio streaming simply by tapping their ear. From the user's point of view, the instrument becomes an integral part of an active and full life. From our point of view, each new functionality is an opportunity to extend and deepen our contact with the consumer.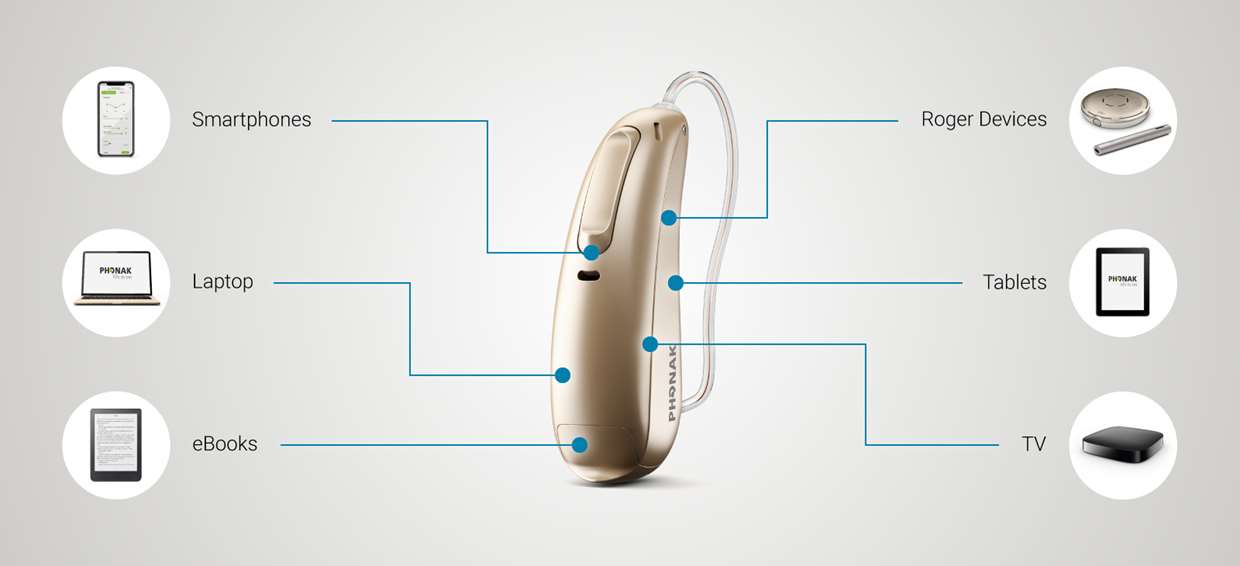 The market response to Paradise has been very strong, achieving similar penetration rates to Marvel's in the same period since launch. A poll of hearing care professionals nine weeks after the launch found that 92% would recommend Paradise Audéo to a colleague, and 69% say that it takes Marvel to the next level.
Commercial excellence: a way of life
Our systematic, global commitment to commercial excellence aims for growth beyond that secured by product innovation alone. A robust yet dynamic go-to-market model allows us to drive excellence in sales execution, bolstered by demand generated through targeted marketing campaigns. Together, they create a virtuous cycle where increased productivity releases funds to re-invest in further growth. We have achieved very strong results in the first year after implementing our commercial excellence initiative in October 2019. For instance, sales territory redesign has increased sales productivity, and with it the number of customers each salesperson reached per week, by more than 25%. At the same time, we have been able to increase the number of "feet on the street" by 20% in our key markets, boosting both the reach and intensity of sales contacts. In the highly competitive US government services market, we have been able to increase market share by 30% in the past two years.
Unique multi-channel market approach
Sonova's aim is to address all forms of hearing loss through the broadest product and solution portfolio in the industry – but also through the broadest market presence, including our own Audiological Care network. Our multi-channel model gives us, our professional customers, and our consumers the widest possible spectrum of points of contact, supporting an integrated, consistent market approach with great reach and depth.
One example of the benefits of this approach is the launch of Paradise in August 2020 – at a time when the COVID pandemic made large physical meetings impossible. Our virtual launch events reached more than 8,000 live attendees in over 14 countries, with thousands more downloads of the event, which we were able to follow up with dedicated online meetings and training. The result was that we were not just contacting more people, we were increasing the depth of our contact at each customer account. By constant monitoring and management of the sales process, we were able to optimize the use of resources (including our own and our customers' time) and kickstart sales even before in-store visits were feasible. In the future, we will be able to implement a targeted blend of on-line and in-person contact to sustain continued sales growth.