Sonova's vision is of a world where everyone can enjoy the delight of hearing and therefore live a life without limitations. 
Every person's experience of hearing loss is different, hence Sonova's market is naturally diverse. Our mission, though, is simple and unchanging: to be recognized as the innovation leader in the global hearing care market. In everything we do, we aim to provide industry-leading audiological performance and outstanding consumer experience.
We reach our consumers through multiple channels; this diversity lets them benefit from our broad range of solutions – hearing aids, cochlear implants, wireless communication products, eSolutions, and professional audiological care – in the way that best suits their individual needs.
Our vertically-integrated business model lets us be both flexible and efficient, using the consumer insights gained through every channel to drive our shared R&D in a cycle of continuous customer-focused innovation.
Our growing emphasis on connectivity and digital applications means that we can both broaden and deepen our engagement with consumers, offering trusted, valuable support at every stage of their journey to better hearing.
Sonova's strategy builds on the strengths we have established over many years.

Our market-leading innovation, such as this year's worldwide launch of Phonak's Marvel platform, puts us at the forefront of audiological performance and clear rich sound experience. Our audiological care network combines in-store, remote, and online support to deliver a uniquely flexible and personal consumer experience. We continue to optimize our sales and marketing to fit precisely to the needs of our various distribution channels and to establish a strong presence in high-growth developing markets. And we never stand still: where there is a possibility to improve our processes, optimize our structure, or expand our consumer offering and technological capabilities – whether organically or through acquisitions – we will seize that opportunity, not only to increase Sonova's profitability, but to build the investment capacity that fuels future growth.
Our Group is organized in three core businesses: hearing instruments, audiological care, and cochlear implants. Collectively, they enable Sonova to offer innovative solutions for every type of hearing loss along with the training, tools, and support that create an optimal consumer experience.
Hearing instruments business: Sonova continues to be a leading developer and manufacturer of hearing aids and related solutions. Our R&D focus enables us to consistently launch new technology platforms that support significant performance improvements across our wide product spectrum and through multiple distribution channels. Our emphasis is on audiological performance, offering a clear, rich sound experience and speech understanding even in the most challenging environments. Recent innovations in connectivity and digital applications let us deliver fundamental improvements in the consumer's experience.
Audiological care business: The new name for what was previously called our retail business underlines the quality that sets it apart: its emphasis on care. The 5,000 trained specialists who work in our centers are there to care for people who have a clear medical need. A personal relationship founded on expertise and understanding is the best basis for getting the full benefit from a hearing solution. Our technology and our increasingly integrated IT systems give consumers the freedom to choose how they would like to receive our support – in person, remotely, or online – at every stage of their relationship with us. This integrated approach lets us care for every consumer with the individual attention he or she deserves.
Cochlear implants business: A cochlear implant offers people with significant or complete hearing loss the chance to hear clear sound and join in conversations. Our Advanced Bionics implants benefit from the latest sound processing capabilities made possible by our Phonak technology. The cochlear implant market is expanding from being mostly children born with hearing loss to adults whose hearing loss has become too severe to be treated only with hearing aids.
Key areas of activity
Innovation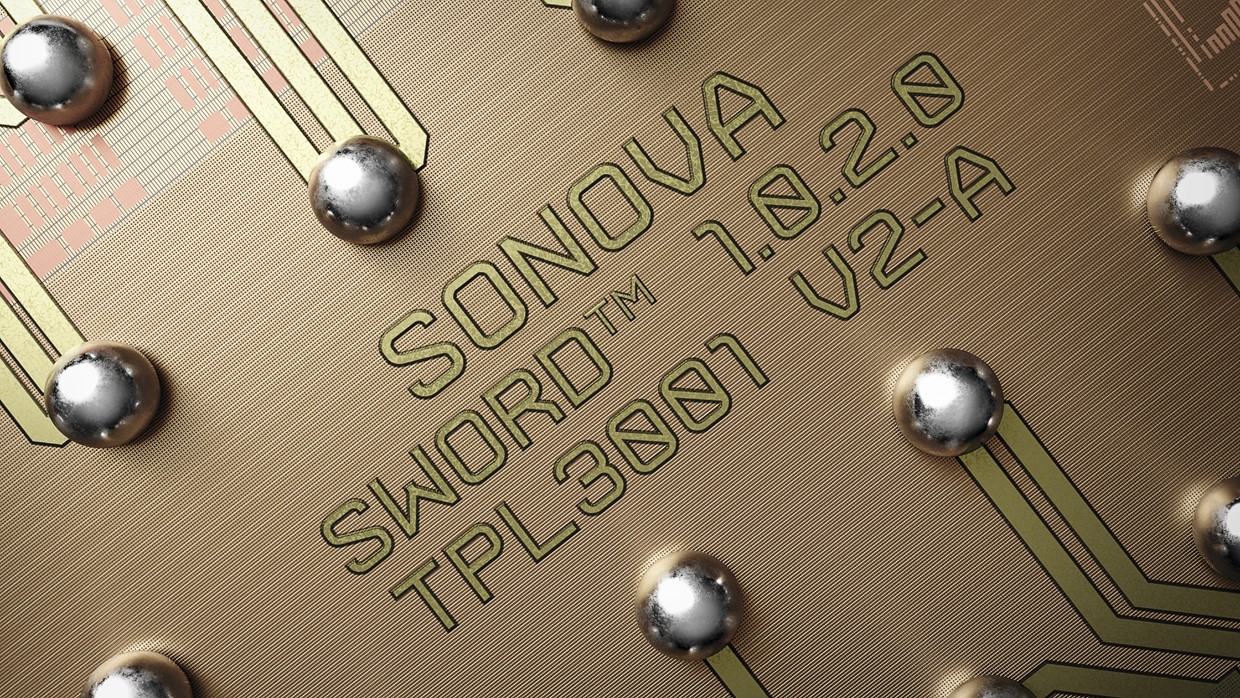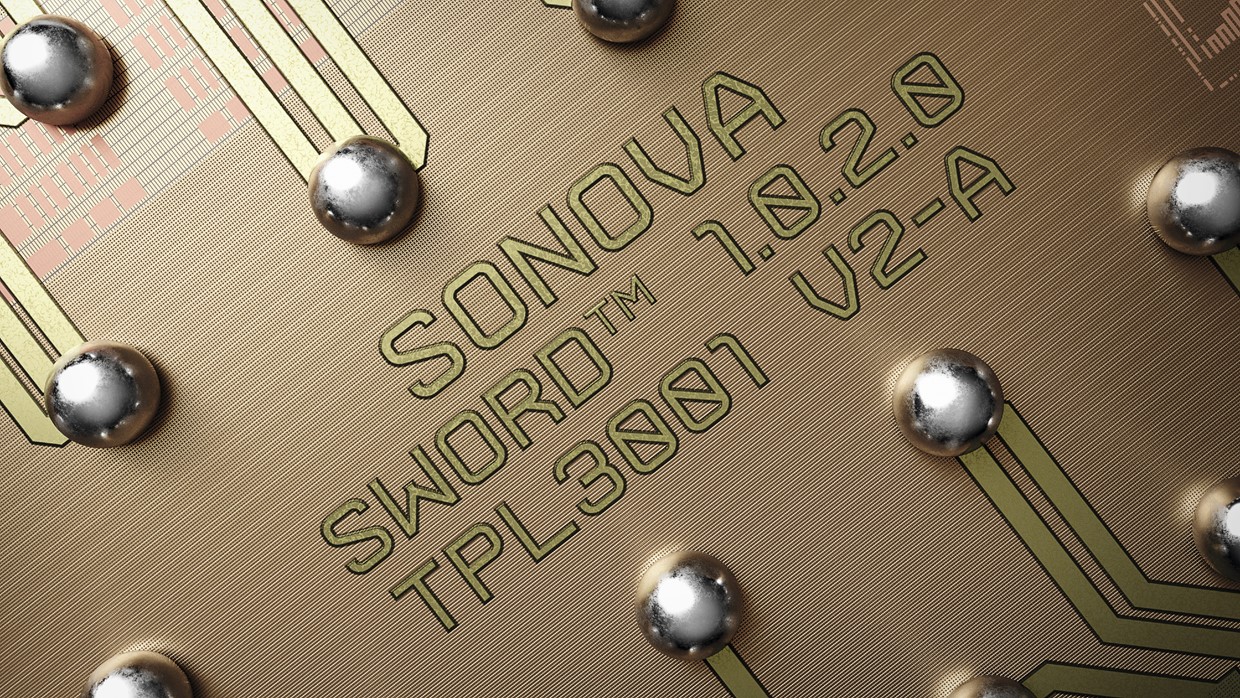 Phonak developed SWORD, an ultra small, ultra low power chip. The structure includes 42 million transistors placed on 6.8mm2 size chip. Using 40 nm CMOS technology, SWORD is the only wireless chip with one antenna to power all applications.
Last year, we introduced our first products based on the proprietary SWORDTM (Sonova Wireless One Radio Digital) chip that allows hearing instruments to communicate with a vast selection of electronic devices such as mobile phones or televisions. This year, we extended the benefits of this technology, providing users with the ultimate combination of excellent stereo sound quality with universal Bluetooth® connectivity1 and rechargeability, all in a single product.
We never innovate simply for innovation's sake: what matters are capabilities, not features. The benefits offered by technology such as our SWORD chip go far beyond mere connectivity: hands-free phone conversations, direct media streaming, remote fitting and supporting consumer applications ‒ a whole new universe of possibilities that enriches the consumer's experience.
with Bluetooth® 4.2 wireless technology and most older Bluetooth phones.
Market and consumer access
Sonova's global distribution network is the broadest in the industry. We seek engagement with consumers through a range of channels: our own audiological care business, retail chains, independent audiologists, government agencies, and cochlear implant clinics. This wide reach, extending to more than 100 countries, offers many points of contact with consumers where we can gather feedback and offer enhancements. Digital connectivity and eSolutions let us deepen that contact with consumers across all channels.
The global hearing instrument industry shows a wide difference in growth potential between developed and developing markets. As general wealth increases in countries like China, the number of people with hearing loss using a hearing aid will rise from the current 1–2% toward the developed world average of around one quarter. We are therefore building access and engagement with consumers and hearing care professionals in those markets. In China, for example, we are expanding our distribution network, accelerating our China-specific innovation, and scaling up our education program for local professionals.
Continuous improvement

Every year brings its technological innovations, but there are other improvements that can contribute materially to growth. We benefit from highly efficient manufacturing and aim to increase productivity further by continuous process improvement and structural optimization.
In every area, from maximizing product reliability to fine-tuning our sales and marketing approach to optimizing capital allocation, we seek to increase the number of projects delivering these incremental gains, both on the operational and the market-facing sides of our business. Every gain helps us to build our investment capacity for future growth.
Dieser Abschnitt ist nur in englischer Sprache verfügbar.