Dieser Abschnitt ist nur in englischer Sprache verfügbar.
STRATEGY AND BUSINESSES
Strategy and businesses
Consumer Hearing business
Linking the common values and complementary strengths of Sonova and Sennheiser, we can reach consumers earlier in their hearing journey, creating new paths to growth.
The consumer's desire to hear every single detail begins, for most, long before there is any hearing loss. Recorded music, phone conversation, computer games, and remote meetings all call on audio technologies – headphones or earbuds – to deliver a clear, immersive hearing and sound experience without distracting noise or loss of quality. The key difference between these technologies and Sonova's own hearing solutions comes down to the amount of amplification and the specific sound processing to deliver clear speech, but – as with hearing itself – there is a continuum of consumer needs from the pure audiophile headphone to progressively greater hearing assistance.
In May 2021, Sonova announced the acquisition of Sennheiser's consumer division; the deal was closed in March 2022, and grants Sonova an exclusive license in perpetuity to the well-respected Sennheiser brand in the consumer market. This acquisition supports a key part of Sonova's strategy: to reach ever more consumers, wherever their journey towards better hearing begins.
Personal audio is an integral part of everyday life for most people, as they increasingly interact with their digital devices through sound. Normal, age-related hearing loss can appear several years on average before a consumer will actively seek audiological help, but many would accept a non-medical solution to enhance hearing and speech comprehension in specific situations. This complementary approach can ultimately expand the hearing aid market by increasing adoption at an earlier stage of the hearing journey. Sonova has done extensive development work in this area over recent years, and the acquisition of Sennheiser's consumer division will significantly accelerate our efforts.
Sonova and Sennheiser: an excellent fit
Both companies share a passion for sound. Their history is similar in having been entrepreneur-led businesses with a culture centered on customers, innovation, and quality – respected names in their industries for more than 70 years, with strong brands and well-established consumer bases. The new business combines their strengths: Sonova's in audiological expertise and Sennheiser's in premium sound quality.
There are significant synergies, from Sonova's expertise in custom fitting and battery life to Sennheiser's in noise cancellation. Together, they address at the highest level the needs that consumers consider essential: wearing comfort, sound quality, and better hearing in noisy situations. The complementarity extends to R&D, production and distribution: Sonova's in-depth know-how in miniaturization, Sennheiser's world-leading bespoke transducer manufacturing and multiple channels for reaching the audio consumer, online and in-store – all these combine to make a business that is primed to grow profitably from day one.
The new enterprise will also benefit from Sonova's strategic strengths: consistent, proven business systems, continuous improvement through the Sonova X Business System, a growth focus, and cooperation with the other Sonova businesses to expand the consumer base.
Building on strong base
The Sennheiser brand is recognized worldwide as guarantee of high-quality sound: audiophile and premium headphones contribute around 80% of its revenue. True Wireless headphones are a particularly high-growth market, expanding by 10–15% per year and expected to more than double in size.
It is in this premium segment, offering the highest sound quality and speech clarity with the best wearing comfort, where we are concentrating the joint efforts of the Consumer Hearing business. The Sennheiser True Wireless product portfolio has gained a strong competitive position in the two years since its launch, and we anticipate that the addition of Sonova expertise will further enhance that position. Our ambition for the business is to deliver double-digit sales growth with the potential to expand EBITA margins.
Early entry solutions: a new growth vector
The most immediate application of Sonova expertise to Sennheiser consumer products is in using our digital sound processing expertise to improve speech clarity and comprehension when using headphones. Research shows that around 7% of consumers buying True Wireless headphones are also interested in speech enhancement; given the growth of the segment, this translates into an estimated market opportunity over time of greater than EUR 3 billion in so-called "speech-enhanced hearables". It also opens a potential market entry point for providing over-the-counter hearing instruments under the strong Sennheiser consumer brand, if Sonova concludes this to be an attractive business.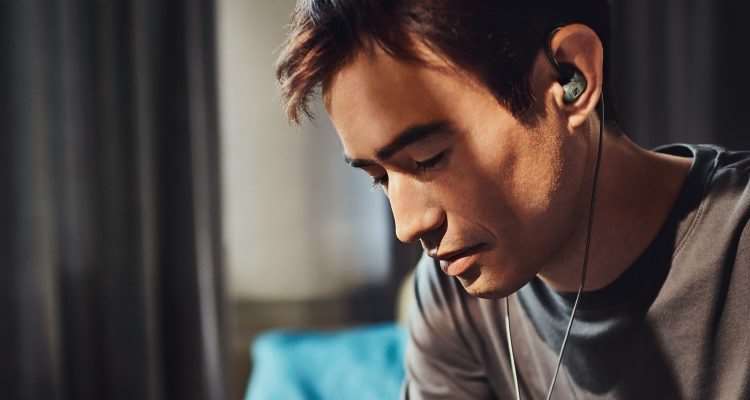 Success in grasping this opportunity depends on a range of factors that the combined Consumer Hearing business is well-placed to provide, including technological, audiological and sound knowledge from both the hearing instrument and consumer audio space, as well as established audiological and consumer audio sales channels, both online and offline.
Moreover, the Sennheiser consumer division has a an existing hearing care portfolio, including TV listeners with a leading market position, and thus is already serving Sonova's target consumers. Add in the worldwide sales channels represented by Sonova's wholesale Hearing Instrument and retail Audiological Care businesses, and we are well positioned to pursue this promising growth vector, with its first new solutions expected to launch in calendar year 2022.